The Skies: "The End of Lifetime" Package Sale Announced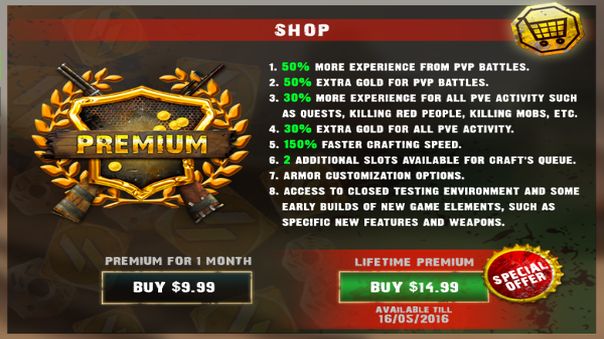 Eforb announces that the Lifetime Premium Package offer for their MMORPG The Skies ends on the 16th of May. This exclusive deal is only available in the first month after launch and will offer early backers a unique life-long premium subscription for only $14,99.  After May 16th, the Lifetime Premium Package will be available for $19,99. A monthly subscription for a Premium Account will be available for $4,99.
The Skies is a free-to-play first person MMORPG. The game blends RPG and shooter elements and is set in an open-world post-apocalyptic environment, where chaos dominates as cities and forests burn out of control. Players will experience complete freedom in a huge sandbox environment with a non-linear quest system. The players will decide how they develop their character and how to interact with the world. Moreover, the innovative reputation system will change the way the world responds to their actions.
The Lifetime Premium Package is the only opportunity to gain infinite premium subscription within The Skies. Until the 16th of May players can take advantage of this superb deal which is still available for only $14,99. Players who choose to upgrade to Premium during this time will be granted 50% more experience and gold from PvP battles, 30% increased experience and gold from PvE activities, 150% faster crafting speed, 2 additional crafting queue slots, additional armor customization options, access to the closed testing environment and some early builds of new game elements. The Lifetime Premium Package is an incredible offer for those who really enjoy playing The Skies and want to be part of the game's growth and development.
More more info, visit http://skies.zone/
Next Article
KOG Games, together with ORIGIN PC, today announces the start of its Elsword Summer 2015 Pro-Am tournament.
by MissyS
Kill3rCombo has revealed new Halloween-themed content and an updated Halloween dungeon for Elsword.
by MissyS