Razer Announces Ultra-Light Razer Kraken X Headset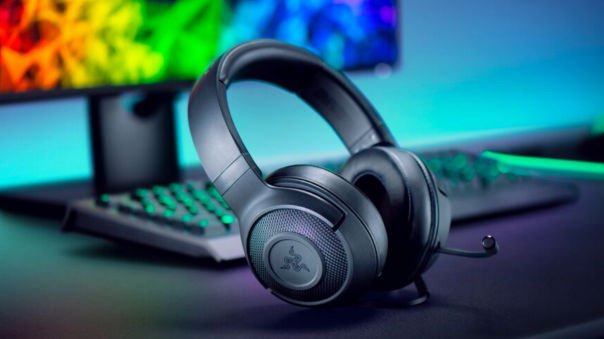 Razer announced today that they have introduced a new product in the Kraken line – the lightweight Kraken X wired headset. It's designed to be light and comfortable, while also offering 7.1 surround sound for gaming that won't break the bank. They also revealed that all of its gaming headsets from 2019 onward will have 7.1 surround sound. It features a fresh redesign that slims down the familiar Razer Kraken profile to the extremely light weight of just 250 grams (0.55 lbs), making it one of the lightest gaming headsets in the market today. Paired with soft memory foam ear cushions, glasses-friendly eyewear channels, and an adjustable headband, the Kraken X serves as an undeniably comfortable gaming headset.
"The Kraken X is great for any gamer," says Alvin Cheung, Senior Vice President of Peripherals at Razer. "It's ultra-light and incredibly comfortable, so you can game for hours with it. It is the companion of choice for domination and immersion in your game with 7.1 surround sound."
The Kraken X is built with a bendable cardioid microphone. Its tight pickup pattern suppresses noise from the back and sides so your voice will always sound crystal clear to your teammates. A microphone mute switch and volume controls can be found directly on the earcup for quick and easy access. It also uses a universal 3.5mm connector, compatible with PC, PS4, Xbox One, Nintendo Switch, and mobile devices. It will be available in black, and a variant color for console with black and blue highlights.
PRODUCT FEATURES – Kraken X and Kraken X for Console
Headphones:
Frequency response: 12 Hz – 28 kHz
Impedance: 32 Ω @ 1 kHz
Sensitivity (@1 kHz): 106 dB
Drivers: 40 mm, with Neodymium magnets
Inner ear cup diameter: 65 x 44 mm
Connection type: Analog 3.5 mm
Cable length: 1.3 m / 4.27 ft.
Approx. weight: 250g / 0.55lbs
Oval ear cushions: Designed for full-ear coverage with leatherette, for sound isolation and comfort
Microphone:
Frequency response: 100 Hz – 10 kHz
Signal-to-noise ratio: ≥ 55 dB
Sensitivity (@1 kHz): -42 ± 3 dB
Pick-up pattern: Unidirectional ECM boom
On-Earcup Control:
Volume up and down
Microphone quick mute toggle
Audio Usage:
Audio Usage: Devices with 3.5 mm audio jack
Audio + microphone usage: Devices with 3.5 mm audio + mic combined jack
Audio / mic splitter adapter cable usage: Devices with separate 3.5 mm audio and microphone jacks
Surround sound: Only available on Windows 10 64-bit
Hazard Ops is tackling the curse of Friday the 13th with the release of its Drone War Z update.
by MissyS
NetEase has announced the start of Immortal Conquest Season Two, introducing an all-new Nation System.
by MissyS
Looking for something to do this weekend? Check out the best free game deals and Twitch Prime Loot!
by MissyS