Puzzle & Dragons Invites The Adorable World of Sanrio Back for a Collab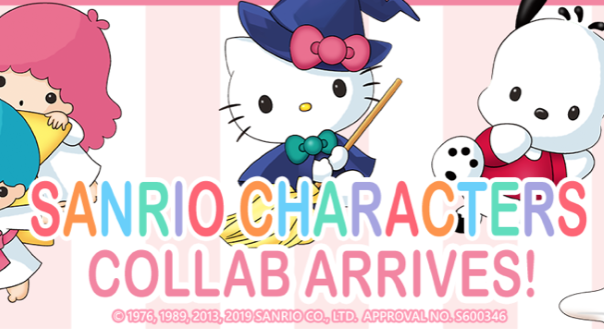 GungHo Online Entertainment welcomes the incredible, magical world of Sanrio back to Puzzle & Dragons for a fantastic collaboration. This event will go from June 10th until June 23rd, with players collecting returning iconic Sanrio characters and some new ones. Alongside fan favorite Sanrio characters like Hello Kitty and Bad Badtz-Maru, this SANRIO CHARACTERS Collab brings in new additions including gudetama and Pochacco. In addition, there are also special bundles to acquire. The 20 Magic Stones + ★6 & ★7 SANRIO CHARACTERS Egg Machine bundle guarantees only ★6 and ★7 rarity characters, and players who purchase the 10 Magic Stones + gudetama Egg Machine bundle will receive gudetama. Any player who pulls gudetama will also receive the exclusive adorable SANRIO CHARACTERS Orbs Skin.
These characters will join players' teams as they battle their way through the increasingly difficult Dream Labyrinth floors of the SANRIO CHARACTERS Dungeon, eventually challenging Hello Kitty World Joker in a final boss battle. During the event, players will be pulling from the SANRIO CHARACTERS Egg Machine! As a complimentary gift, anyone that logs in gets a free roll in the SANRIO CHARACTERS Memorial Egg Machine to add an iconic character to their collection.
SANRIO CHARACTERS Egg Machine
★7
Great Witch Hello Kitty (NEW!)
★6
KIRIMICHAN. (NEW!)
Little Twin Stars (NEW!)
Pompompurin
Goddess Hello Kitty
★5
Pochacco (NEW!)
gudetama (NEW!)
Hello Kitty
Kerokerokeroppi
My Melody
Bad Badtz-Maru
Kuromi
Cinnamoroll
NEW Ultimate Evolutions:
Great Witch Zela Kitty
UmiKiki & YamaLala
Noah KIRIMICHAN.
gudetama with bacon
gudetama omelette rice
gudetama pancake
gudetama rolled omelette
Oden gudetama
Ra Pochacco
Finally there is a progressive shooter for Warhammer fans on the market: Warhammer 40,000: Eternal Crusade.
by Proxzor
Today, Neople has released its first major content update for First Assault, introducing a new character and new map.
by MissyS
I can't imagine why any sane developer would decide to create a new sandbox voxel game.
by MissyS