Paladins Welcomes New Champion Corvus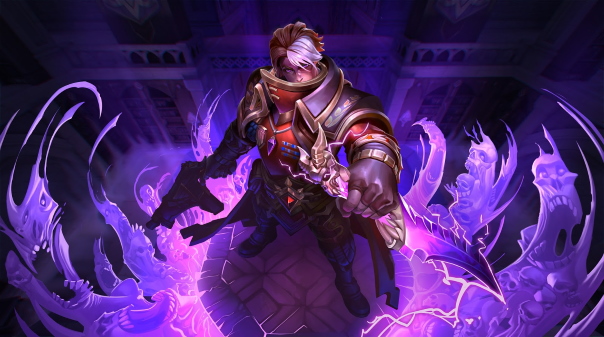 Press Release
Corvus, the Magistrate's Blade, has just become the 45th Champion of Paladins. This new Support was highly anticipated, especially since his bold reveal trailer. He arrives as part of the major content update 'Darkness & Dragons'.
Darkness & Dragons Patch overview: 
Corvus: a role-twisting versatile Support, with an attitude and charisma befitting a Magistrate leader, and an unparalleled mastery of the Abyss
Visual rework of the Magistrate's Archives map
New Darkness & Dragons Battle Pass: eight exclusive Skins where Champions become dragons and dragon-hunters
Corvus is none other than the son of Karne, the all-powerful leader of the Magistrate. Yet it is by his own merit that he has earned the absolute loyalty of his men and instilled fear in his enemies, taking on the title of Magistrate's Blade. Both his looks and his playstyle in Paladins are testimony of his lineage and strength of will. He is a charismatic and resolute man; his moves are slick, swift, and aggressive.
Although a Support, he is anything but defenseless and can unleash consistently high damage with his automatic Officer's Pistol. He is notably mobile thanks to a throwing dagger acting as a teleporting device. And while this movement ability deals damage by default, it can turn into a reliably deadly weapon with the right Talent and a matching Deck – the signature customization features in Paladins.
As a leader in battle, Corvus also inspires admiration to his troops by supporting them directly with frequent bursts of healing. And like so many commanders, he must constantly make difficult yet decisive decisions: he can either all-in his healing on a single ally with increased efficiency, or instead share a portion of it with a second target.
Corvus' ultimate ability is representatively focused on aggression. The son of Karne channels the Abyss to open an Entropic Breach that deals insane damage, especially if used in conjunction with Crowd Control from allies.
The Magistrate's Archives map has undergone a visual rework and is now to be considered Corvus' personal study. Exceptionally detailed and polished, the new archives also show evidence of Corvus' obsession with the Abyss.
Alongside Corvus' arrival, the fiery new Darkness and Dragons Battle Pass is now available in Paladins and unlocks four Exclusive Skins, plus their Recolor. Become part of the dragon scourge with draconic versions of Viktor and Khan, or join the fearless dragon hunters as Strix and Furia. The Battle Pass also features a hundred more rewards such as Chests, Avatars, Loading Frames, and more. All players take part in the Battle Pass completely free of charge through its Free Track. However, for 600 Crystals players can unlock the Premium Track, containing even more treasures. Both tracks progress simply by playing Paladins. The Free Track includes 450 Crystals, complemented by 150 Crystals from the Premium Track. As a result, completing both tracks gives back all the Crystals spent.
With the explosive growth of the MMO industry, it's not surprising that more and more MMOFPS games are being released each year.
by Guest
Though this is a closed beta, and a little behind the main game in terms of Gods released, and patched content, it is the exact same game.
by Ragachak
Runewaker's Hack'N'Slash MMO Guardians of Ember will launch on the 13th of December via Steam Early Access.
by MissyS