MU Online Update Introduces New Maps and Events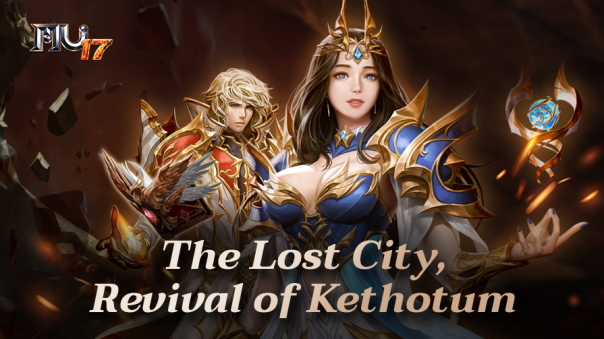 WEBZEN, a global developer and publisher of PC and mobile games, has announced the latest update for its classic PC MMORPG MU Online.
Following the Season 17 Part 1 Update in July, the new patch brings two new maps – Old Kethotum and Burning Kethotum along with some limited-time events that will offer various in-game rewards.
Kethotum is the lost city where Kundun was dominated by the sealed dark god and now lies sealed. Players who reach level 700 and 1,160 can enter Old Kethotum and Burning Kethotum respectively.
Starting from today until September 6th, the newly updated map will allow players to collect Elemental Symbols (Fire/Water/Earth/Wind/Darkness) from the elemental monsters in Burning Kethotum. After collecting them, players can go to NPC Lahap to combine the Elemental Symbols to acquire the Elemental Box containing rare items such as Sealed Bloodangel Armor.
In addition to this update, the MU Expedition Event will offer players a second golden chance to obtain exclusive support for players who have missed the Speed server and created Kundun and Lemuria in the original server.
Anyone who creates a new character such as Kundun or Lemuria will get the Talisman of Ascension (3 days). With the new character level-up event, various rewards including Gold Channel Tickets, Darkangel Soul, and much more will be waiting for each level until level 800 is reached.
Along with the max level expansion to lv. 1,400 in this update, the EXP Boost Event where players can get extra EXP of 30% will be running until the maintenance on September 6th. Once players reach level 1,350, a Limited Edition Kundun & Lemuria Muun Reward will be given through the Gremory case in the 'Season Level Reward Box'.
Furthermore, there will be a Mastery Equipment Enchantment Event, Fruit Decrease Stat Reset Event, and Seed Sphere Free Cost Event for players to take part in, offering them the chance to earn various rewards.
Lastly, the Bullet Roulette Event and Roulette Point Ranking Event are now live. Players must use their Goblin Points and get 5 Dimensional Keys to play the Dimensional Roulette for 1 minute. Also, Top 200 Roulette Point rankers will get special prizes such as Blessed Divine Archangel Weapon, Brilliant Armor, Manticore Weapon, Ruud, and more. Especially, the Top ranker who earns the most Ranking Points for each week will receive additional rare set items, +0 4th Wing + Luck +2 Option [Level 3].
For more of MU Online's Season 17 Part 1 Update, visit the official website.
Ether Saga Odyssey is celebrating its third anniversary with fun new updates for its players.
by MissyS
Legends of Callasia will begin its full release on Steam with a week-long sale event.
by MissyS
Xibalba Studios offers the first update in over a year for MilitANT, with a new E3 2014 trailer.
by MissyS