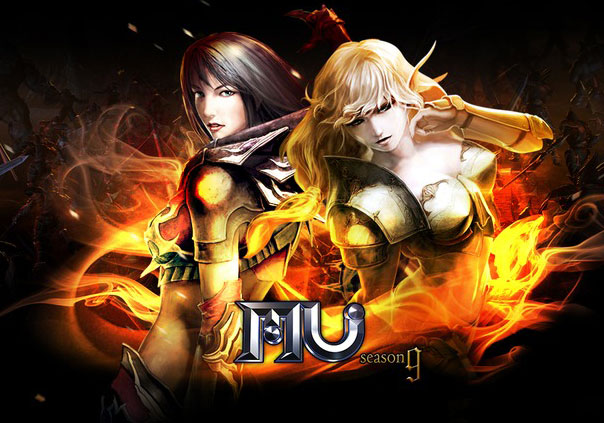 Mu Online is another old pay to play game gone free to play. It is one of the oldest MMORPGs out there as it was released in 2003, but it still has a surprisingly large and loyal playerbase. The game's graphics and interface both look a lot older classics like Diablo and Baldur's Gate. The game's classes include:
Dark Wizard- Dark Wizards are the primary offensive spell casting class in Mu Online. They are capable of dealing massive amounts of damage to both single and area of effect targets. The drawback to their powerful offensive skills are that they tend to have low hit points and weak defensive capabilities.
Dark Knight – Dark Knights are the primary 'warrior' archetype in Mu Online. They have plenty of hit points and high defensive capabilities, but their offensive capabilities are fairly weak during the early levels of the game.
Fairy Elf – Elves in Mu Online are a hybrid of the cleric and archer archetypes. They can cast supportive magic while being able to deal a fair amount of damage with their bows from a distance.
Magic Gladiator – These warriors combine spell and sword, bringing both to bear in the defense of MU; their arsenal includes abilities of both the Dark Knight and the Dark Wizard classes.
Dark Lord – Riding into battle on his steed, he is a terrifying force that summons his Dark Raven and Dark Horse to do his bidding.
Summoner – By using special scrolls, Summoners can summon mysterious monsters. Through their constant prayers and meditations, Summoners can incapacitate enemies by compromising their weaknesses.
Rage Fighter – The Rage Fighter is a remnant and descendant of Kalutal roayal knight. They are specialized for charge attack based on their physical advantage and use special buffs learned from Kalutan royal knight.

Status: Released
Release Date: Oct 06, 2003
Business Model: Free to Play
Developer: Webzen
Publisher: Webzen
Category:

Stand-alone

Genre(s):

2D, MMO, RPG, Fantasy

Platforms:

PC


Editor's Score: 3/5

Pros:

+Diablo style random item system.
+Fast paced gameplay.
+System requirements aren't demanding.

Cons:

-Repetitive grind oriented gameplay.
-Virtually no quests.
-Zero character customization.



Recommended System Requirements:

OS: Windows XP Service Pack 2
CPU: Pentium D 915 (2.8 GHz)
RAM: 2 GB
GPU: Geforce 6x00, Radeon x600
HDD: 6GB



Description: Mu Online is a 2D Fantasy MMORPG. The game was first released as a pay to play title but later re-released as free to play. Mu Online's graphics closely resemble that of older pc RPGs like Diablo and Baldur's Gate.
Today InnoGames released additional information on the art and graphics of its upcoming cross-platform strategy MMO Rising Generals. The game ...
by Mikedot
Beasts vs Bots is a fast-paced real-time strategy game tailored for touch control on mobile phones and tablets.
by MissyS
Carbine Studios is excited to share the latest WildStar deep dive, this time focusing on Class Stat Refactoring.
by MissyS