MU Online Speed Event Server Season 2 Now Live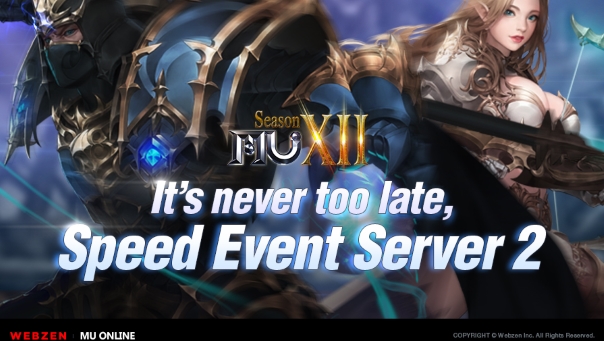 WEBZEN has announced that MU Online's Speed Event Server Season 2 is now open to players.
This time around, the Speed Event Server offers players a maximum of 20,000% EXP along with top-ranked items to help level up their new characters and enhance gameplay.
Speed Event Server Season 2 will be running until the weekly maintenance on August 8th, 2017 (UTC). Players will be able to transfer their characters back to the original servers (Helheim, Midgard, Titan, Asgard and Vanaheim) for free, only one time. Except for Ruud, Muun and activated buff items, all items will be wiped on transfer back to the original servers.
To celebrate the arrival of Speed Event Server Season 2, the MU Online team has organized many special in-game events. During the event period, players can enjoy level-up rewards, ranking rewards, free gifts of [Bound] Bless of Light (Higher) x 10 & [Normal] Scroll Package (3 Days), and many more rewards from Captain Marlon's Mission Event.
Along with server-transfer events, players will be able to receive amazing benefits such as a reset package & free character transfer. Players who reach level 600 or above will also receive free buffs for 2 weeks. Additionally, players on the Vanaheim server will be rewarded with Wizard Ring (14 Days), Seal of Ascension 2 (14 Days), [Master] Seal of Wealth (14 Days), and Seal of Healing (14 Days).
Next Article
Pearl Abyss announced today that Black Desert, their open-world fantasy/action MMORPG will begin Xbox One pre-orders soon.
by Ragachak
There are a few really big highlights that we're going to hit here, and while there aren't huge mountains of changes, each are gigantic.
by Ragachak
League of Angels is slated to receive a Valentines Day update on February 10th, 2018. The event will last until February 14th, 2018.
by Ragachak