Marvel Future Fight: Global Release Announced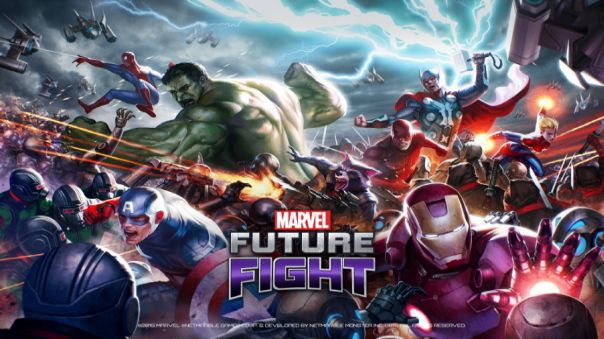 Netmarble Games Corp. announced today that its newest and most anticipated mobile action RPG title, Marvel Future Fight, launches globally on April 30.
Netmarble and Marvel have teamed up to create an immersive player experience that captures the excitement of the Marvel Universe, featuring an original storyline by critically-acclaimed and best-selling Marvel writer Peter David.
Marvel Future Fight offers players a total of 36 powerful characters, including the Avengers, Spider-Man, Daredevil, and the Guardians of the Galaxy, each with their own signature moves, abilities, and costumes. Skilled players will learn how to combine and consolidate these heroes to unleash the most powerful effects and build an unstoppable team.
Featuring high-quality graphics and deep, action-packed content, players will lead their team of heroes against villains like Loki, Doctor Octopus, Ultron and many more in stage-based battles. In addition to PVE and PVP modes, Marvel Future Fight features a thrilling RPG campaign where players gain experience for their team and enhance their heroes' stats.
"We're thrilled to offer a profound new dimension of action gaming, encouraging players to create their own teams with familiar Marvel characters like Iron Man, Rocket Raccoon, Captain Marvel, and many more," said Gun Kim, CEO of Netmarble Monster. "Marvel Future Fight will raise the standard of action RPGs in the global market as we have set a strong foundation in Korea with Netmarble's previous title, Monster Taming."
"Netmarble has been leading the Korean market with the launch of Raven in March and support from titles such as Monster Taming, Everyone's Marble, Seven Knights, and others," said Youngsig Kwon, CEO of Netmarble Games. "We aim for the best by using our past experience and know-how, combined with the synergy of an amazing collaboration with the exciting Marvel IP, to launch Marvel Future Fight as a globally successful title."
Marvel Future Fight will be globally available on the App Store℠ and Google Play™
Frontier Developments plc announces the starting dates for the new testing phases for its Elite: Dangerous game.
by MissyS
Gamania has announced the official launch of its web-based strategy game, Web Koihime Musou.
by MissyS
Ultima Online is over 20 years old. Let's just say that again and really give it some thought. Ultima Online is over 20 years old.
by Ragachak