Marvel Contest of Champions Comic Series Announced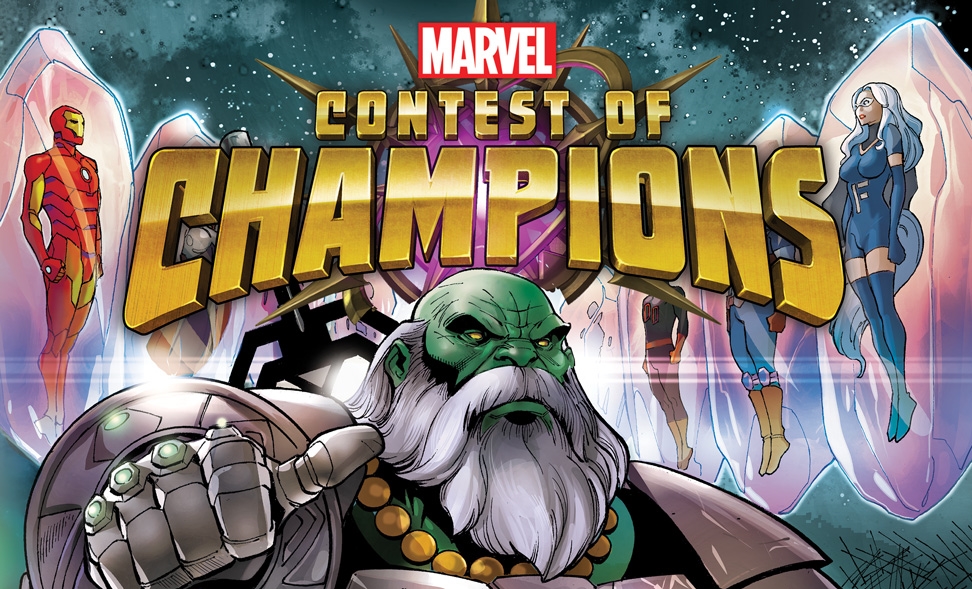 Kabam is proud to announce the new monthly Marvel Comic series, Marvel Contest of Champions, inspired by Kabam's popular Marvel Contest of Champions mobile game. This marks the first time Marvel has produced an on-going comic book series inspired by a video game. Marvel Contest of Champions issue number one is available at local comic shop retailers and digitally through the Marvel Digital Comics Shop. Marvel Contest of Champions comic writer Al Ewing and Kabam artist Gabriel Frizzera will be available for autographs at Marvel's New York Comic Con booth on Friday, October 9 at 10 a.m.
"The Marvel Contest of Champions comic book series merges the worlds of mobile gaming and comic book publishing, presenting each as a cohesive storytelling medium that complements one another," said Kabam Chief Operating Officer Kent Wakeford. "Kabam is honored to collaborate with Marvel on the company's first-of-its-kind project. It not only demonstrates mobile gaming's strength as an entertainment partner, but it also exemplifies a unique way mobile games can crossover and connect to new audiences."
"Through Marvel comics, movies, television shows and games, we strive to nurture our fans' relationships with Marvel characters across their preferred media channels," said Peter Phillips, EVP/GM, Interactive & Digital Distribution, Marvel Entertainment. "It was a natural creative effort to offer Marvel Contest of Champions, one of the most popular mobile games in the world, as a bold new comic series and expand that universe into one fluid entertainment experience."
The Marvel Contest of Champions comic series will focus on popular Marvel Super Heroes that are featured in the mobile game, including Iron Man and Gamora. In addition, the comic will introduce new characters to the Marvel Universe that are also debuting in the Marvel Contest of Champions mobile game. For the comic's debut issue, Kabam and Marvel collaborated on the development of a new character, Guillotine, a Super Hero who wields a powerful magic sword that's been passed down through her family since the French Revolution. New York Comic Con attendees will be among the first to see her in action as well as fan-favorites Venom and Joe-Fixit, who are both appearing in the comic series and making their in-game debuts in October, at the Marvel Contest of Champions demo stations at Marvel's booth.
Marvel Contest of Champions is the only arcade-style fighting mobile game that dives deep into the Marvel Universe. Heroes and villains from Marvel's Avengers: Age of Ultron, Avengers, Thunderbolts, X-Men, Inhumans, Guardians of the Galaxy and more battle it out in iconic Marvel locations, in an epic storyline that stays true to classic Marvel storytelling. The game launched in December 2014 and surpassed $100 million in gross revenue in seven months, the fastest any Kabam game has hit that revenue milestone.
To download a digital copy of the Marvel Contest of Champions comic book, please visit Marvel's Digital Comics Shop.
Next Article
Today, Kabam will release its latest MMORPG, Wartune: Hall of Heroes, for iPhone, iPad and iPod touch devices in addition to Google Play mobil...
by Mikedot
TinyBytes Games, a studio comprised of industry veterans that are committed to bringing fun-filled games to mobile devices globally, announced...
by Mikedot