MapleStory Kicks Off 14th Anniversary With Major Events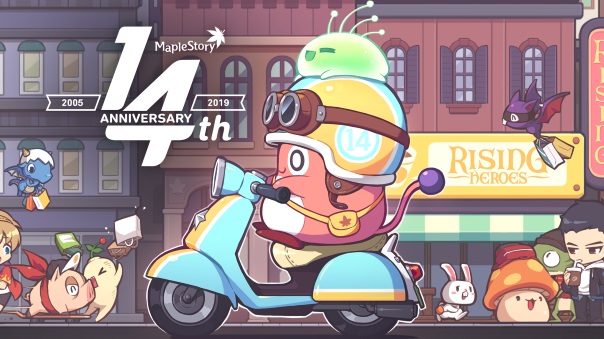 It's MapleStory's 14th anniversary, and with it comes a ton of celebratory events and fun times, during the 14th Street event. This event will last from April 24th, until June 12th and events named after the past seasonal updates will be available as well (Chaos, Nova, Ark and more). Once all the missions are complete, Maplers will receive the "14th Street Celeb Medal".  Players will also be able to create a Pink Bean character, through June 12th, by talking to Pink Bean outside of the Chaos Pink Bean theatre. New skills for Pink Bean include Pink Bean's Scooter, which will help avoid damage while riding, and Twilight of Gods, which allows Pink Bean to recreate statues that appear in the Temple of Time to attack enemies around.
Pink Bean's Movie Script also arrives in this update, which gives players 30 missions to complete. The reward for completing these is the "Holy Pink Beanity" title, which is a stat-boosting title. A special Big Bang Store will also open where players can use their 14th Street Coins on unique items such as the Pivotal Adventure Ring, the 14th Street Tour Bus Mount, and the Hall of Maple Warriors chair.
Turbine announces a week long unlock and sale event for Infinite Crisis to celebrate PAX East (Boston).
by MissyS
High level players can now obtain Doflamingo for their Pockie Pirates crew.
by MissyS