LG UltraWide Festival Dream Set-up Taking Applications!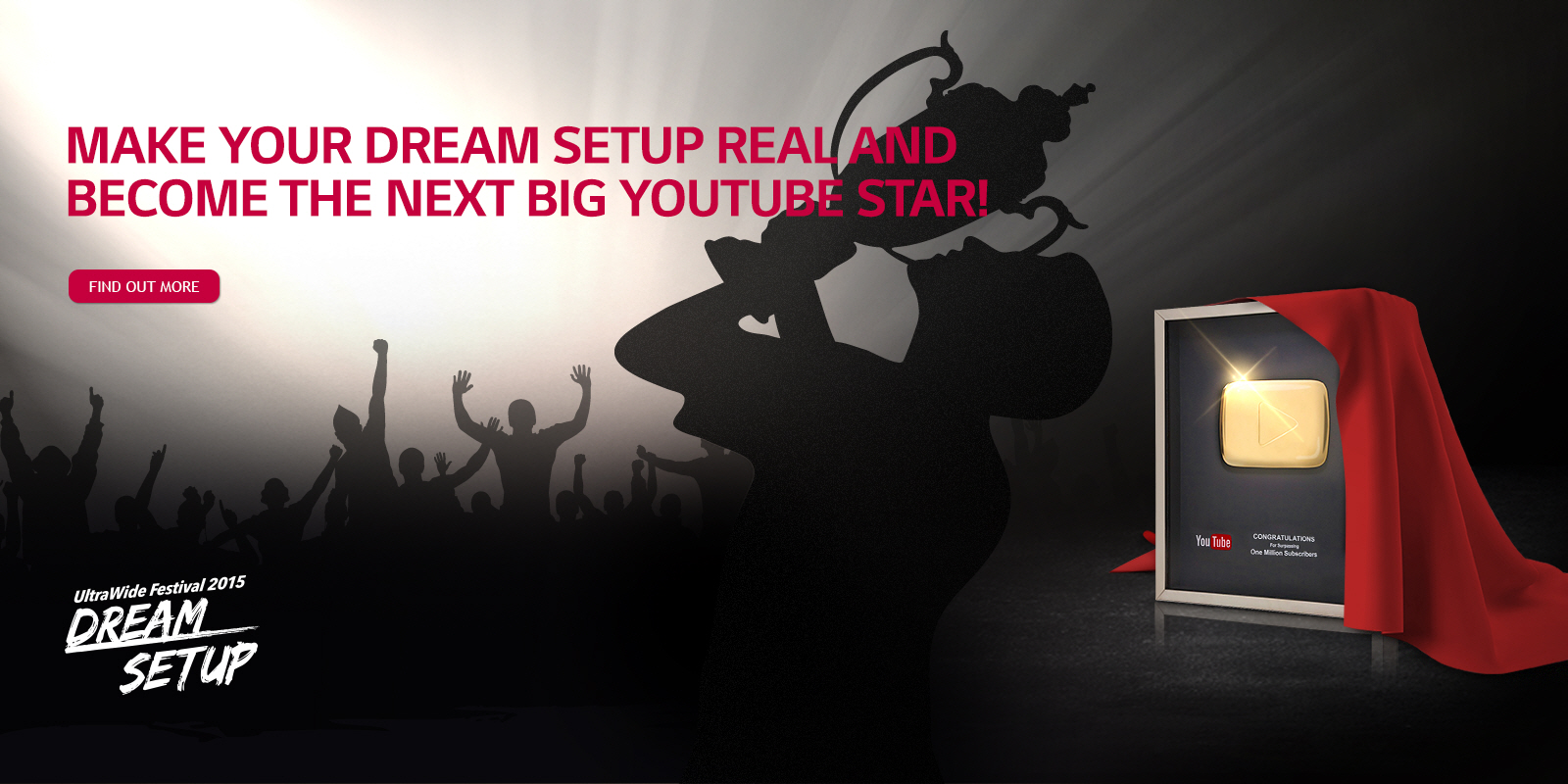 Think you have the talent, skills, and ambition to become the next Youtube Gaming Star? But budget holding you back? The LG UltraWide Festival Dream Set-up has arrived to turn push you one step closer to your dreams by getting you the ultimate editing studio set-up to let you compete on equal terms with the best of the youtube community!
What's the catch? Well think of this as your opportunity to apply to the next American Idol or Master Chef competition, but for a gaming career! The UltraWide Festival has reached out to MMOHuts to help spread the word that they're in the final stages of searching for contestants for this year's competition. If you've ever dreamed of the perfect $10,000 Game Station Set-up to advance your career as a tech geek reviewer or guide, game lover, or creative photography professional, then this is your time to shine.
How to Apply
Would be participants must produce a picture, or better yet, a video showcasing their current PC set-up. Take this and upload it to your favorite social network, i.e., the one you think you can get the most awareness from for fan support! Then head over to www.ultrawidefestival.com to submit your Social Network URL and describe your Dream PC Set-up and how you would use it to make your channel great! This submission should show you utilizing your current set-up towards your dream, be it creating music, gaming, or just showing how your 9-5 work gets done currently.
Time is running out on this opportunity though so don't delay or you'll be out. The 30 semi-finalists will be selected by October 2nd. That's Friday! If you make it that far, you're automatically winning an LG UltraWide Curved Monitor (model no. 34UC87C) for the next step of the competition!
Finalist Competition
The free monitor is of course only the beginning. Once received, participants must use it to post a video review of the monitor, and how they will incorporate it into their future production set-up before 3 finalists are chosen on October 24/25. Entries will be reviewed by Youtube celebrities Linus, Lewis and Jahova. Should you be one of the lucky three, these judges will become your mentor as you utilize your new found $10,000 to acquire your dream set-up. Once completed, you will produce a Dream Set-up introduction video in preparation for the December Finale Party in Vancouver where you and a handful of your most dedicated fans will be flown with an all inclusive travel package! That's your chance to make a name for yourself as the event is livestreamed to millions of gaming and techies, your future Youtube audience!
Don't delay. Head to www.ultrawidefestival.com for full details. JamesBl0nde and MMOHuts would love to see one of our fans make it big, and perhaps join us as the next stars in the world of gaming!
Next Article
This game can quickly be described as: MadMax + Motorstorm + Robocraft.
by Abubakr
Since August of last year, Tom Clancy's Ghost Recon Online opened this realm of shooters to the masses.
by Proxzor