HeroWarz Announces Second CBT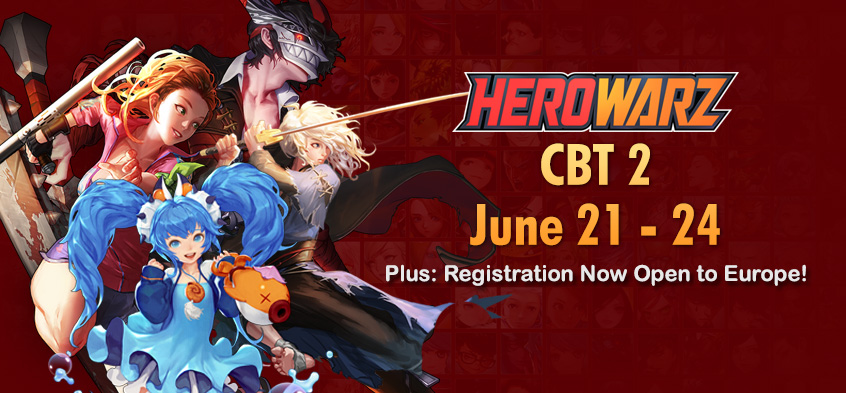 KOG Games, publishers of the acclaimed action epic Elsword, announce the launch of CBT 2 for HeroWarz, the ultimate action RPG where players select and cultivate unique heroes to build their personal assault force. Dive into an ever-expanding, in-depth, story-driven character lineup and prepare for action-packed battles like no other!
KOG Games is pleased to bring you some exciting news. The HeroWarz CBT 2 phase will be held from June 21 – 24, 2016. Registration is open now! In this phase, every player from the qualified list of participating countries who registers today and up through the dates listed above will be able to play. Yup, you read it right!
In addition, players who participated in the previous CBT will be able to participate as well. Why would want to play another round of CBT? In addition to opening the access to more countries, every member of the HeroWarz team is working hard to take the HeroWarz game experience to the next level. There will be new events, some adjustments to gameplay (some new, some polished), and some other nice surprises coming down the pipe.
In true CBT fashion, many of the improvements the team applied are based on the extremely valuable feedback CBT participants sent to the team from the previous round. This time around, KOG Games wants even more players in the mix! And, with players from around the world playing, it allows KOG Games and A.Storm a whole new level of perspective and feedback to take in.
That being said ~ Account registration is now open to most European countries! For a full list of participating countries, Click Here. However, please note that posting on the Official HeroWarz forums will continue to be limited to the participants of CBT 1 until after CBT 2 has started.
Keep your eyes peeled! Once the CBT 2 phase concludes, the HeroWarz team plans to move very quickly towards the next phase. Stay up to date with real time announcements via the Official HeroWarz Global Facebook page: Click Here!
NCSoft announced that Blade & Soul Unchained, the second content update for the MMO, is scheduled to launch on March 2 in NA/EU.
by MissyS
Atari's Minimum receives its first update, featuring an early community-designed map, plus new gear and friends-list matchmaking.
by MissyS
Despite Naruto's main storyline ending in the manga a few years back, there's hasn't been any breaks in the endless slew of Naruto spino...
by Ojogo