Hello Hero Epic Battle Arrives in East Asia and the Pacific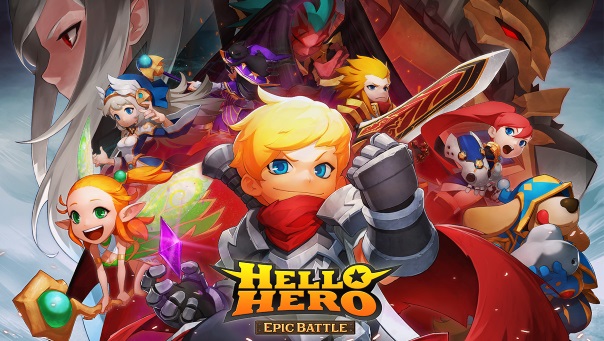 Fincon Co has announced that their new 3D Mobile RPG, Hello Hero Epic Battle has released in several locations. China, Taiwan, Hong Kong, Macau, Australia and New Zealand residents can all download the game and play now. Set 17 years after the original battle for Armon, a group of new heroes is now joining forces with familiar heroes in order to fight and defeat the invading Phobos Army. From the moment the game starts, players will experience a captivating scenario and an easy-to-follow gameplay which is emphasized by side-stories about each hero. 100 unique characters spread among 6 classes are featured in Hello Hero Epic Battle, and players make a team of five that enter battle together. By equipping items and gathering experience points, heroes can grow, and can also be customized with cosmetics. Heroes and equipment alike are separated into 4 Tiers, and receive a 1-7 star rating, which can be upgraded to personalize the characters growth.
Hello Hero Epic Battle features various challenging PvE and PvP game modes: The Adventure Mode offers a variety of battles in 7 regions, each with 4 levels of difficulty, that will put each team's strength to the test. In the Expedition Mode, players can enter dungeons and collect heroes that can then be enhanced in the Workshop by creating and upgrading equipment. Aside from these single-player modes, players can also compete against other players through World Boss Mode, which consists of time-restricted dungeons with powerful bosses and rewards. They can also enter the Battlefield Mode, a thrilling PvP Arena where players can pit their 10 strongest Heroes against others in a fight to the finish. Hello Hero Epic Battle is also played in portrait mode, so players can play one-handed and easily access all of the buttons, for maximum control.  It is now available on both the App Store and Google PLay. European and American players will have a release in November 2018.
Rock Hippo Productions Ltd. announced today the launch of its latest update – Spring Loaded - for their popular free-to-play cartoon-style t...
by MissyS
The Repopulation has released its newest end-of-month report covering September changes, and it was certainly a busy month.
by MissyS