The Gods' Game (an Epic Fantasy LitRPG novel): Two books out now!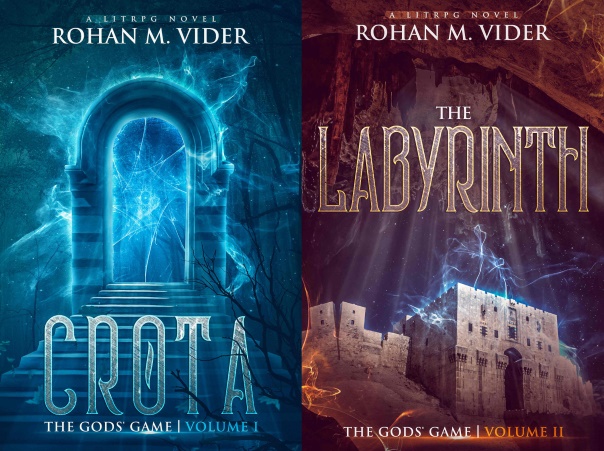 The Gods' Game is a hard LitRPG novel set in a fantasy world. Kyran, a young man from Earth, becomes trapped in the world of Myelad, which is ruled by the Gods' Game – complete with player levels, skills, abilities, spells, classes and other elements from classic computer roleplaying games (CRPGs).
Crota, Book 1 was released in November 2018 and you can grab a copy here.
The Labyrinth, Book 2 is out now too! You can grab your copy here.
About Book 1:
A Game, played between Gods… where the playing field is the world itself… and the pieces, living beings.
A young man caught unwittingly between… in a strange world, without allies or help… must battle for survival…using his wits and magic alone.
Pawn or Player… his fate is his to decide… which will he prove to be?
Accidentally summoned from Earth to the world of Myelad, Kyran becomes embroiled in a thousand-year war between the Gods. Through no fault of his own, Kyran earns their ire and is trapped in Crota, an abandoned city haunted by undead, and infested with all manner of beasts and monsters. To escape the Gods' trap, Kyran must become a Player that even the Gods would learn to fear…
About Book 2:
His life on earth was over. Myelad was his world now. And there he had power. Power to change the Game. But would he? And how?
Accidentally summoned to Myelad, Kyran has earned the ire of the Gods and been banished to the subterranean world of Crota – to die. Yet Kyran has proved tough to kill, and despite the odds, has survived his first few days in the new world.
But his plans for escape have gone awry… Defeated and captured, what will become of him?
Join Kyran, as he battles his way through the labyrinth, gathering allies, overcoming foes, growing into a player, and finding purpose…
Next Article
HiRez has been busy this month rolling out a series of major changes to SMITE in terms of character redesigns, map balances, new items.
by MissyS
The Season of the Dragon continues in Elder Scrolls Online this August, with the Scalebreaker DLC dungeon and Update 23.
by Ragachak
Publisher Iceberg Interactive announced today that developer Arkavi Studio's turn-based 4X strategy game Lords of The Black Sun (PC) will re...
by MissyS