Final Fantasy XIV's Patch 5.1 Goes Live Today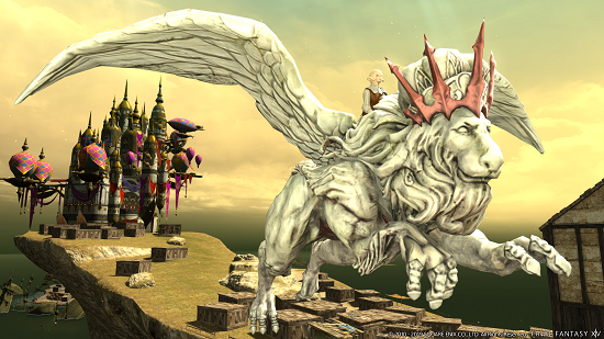 The first major update for Final Fantasy XIV: Shadowbringers, Patch 5.1: Vows of Virtue, Deeds of Cruelty. Patch 5.1 has an absolute mountain of content, such as tons of balance changes and updates to classes like the Ninja. This update also brings to life the first part of the NieR-inspired YoRHa: Dark Apocalypse alliance raid. Players team up with 2P to explore a 24-player dungeon, with a new story and encounters guest-created by Yosuke Saito and YOKO TARO. Below is a list of new content coming in today's Patch 5.1 update.
Patch 5.1: Vows of Virtue, Deeds of Cruelty content:
Main Scenario Quests – The next chapter in the acclaimed Shadowbringers main storyline.
24-Player Alliance Raid: "The Copied Factory" – Featuring Yosuke Saito and YOKO TARO as guest creators, players will battle against machine lifeforms as they explore this new raid dungeon inspired by the world of NieR.
New Game+ – Revisit previously completed quests, cutscenes, dialogue, and battles while keeping your current character and level. Patch 5.1 includes the main scenario quests for Heavensward™, Stormblood™, and Shadowbringers.
Trial: Hades (Extreme) – Players can relive the battle against this fearsome foe in a high-difficulty battle challenge.
Dungeon: "The Grand Cosmos" – Players can explore this great palace built by the Elves alongside fellow adventurers, or a party of non-player characters using the Trust system.
Beast Tribe Quests – Enter the fantastical Garden of Dreams, Lyhe Mheg—a new area featuring a new questline with more of the mischief-loving pixies.
Job Adjustments – The ninja, samurai, and summoner jobs will receive comprehensive adjustments to their current playstyles, while other jobs will receive various smaller changes.
Crafting and Gathering Overhaul – Various adjustments to actions, the removal of additional actions, UI improvements, and more will enhance the gathering and crafting experience for beginners and veterans alike.
Gold Saucer GATE "The Slice is Right" – Yojimbo makes his debut at the Gold Saucer in this new mini-game that will test players' reflexes…and sheer luck.
Patch 5.1 will also feature the introduction of the 'Fellowship' community system, updates to Performance Actions, system updates, and more.
There is more content on the way in the coming weeks, as the 5.1 series of patches goes forward, such as:
Crafter and Gatherer Content, "Ishgard Restoration" (Patch 5.11) – Players on each World will work together as a whole to deliver goods, complete various tasks and restore the Firmament to its former glory.
Ultimate Difficulty Raid, "The Epic of Alexander" (Patch 5.11) – A raid that will push even the most skilled players to their limits.
PvP Frontline Map: "Onsal Hakair (Danshig Naadam)" (Patch 5.15) – Grand Companies will join forces with the tribes of the Azim Steppe to fight in the Danshig Naadam and demonstrate their battle prowess.
Blue Mage Updates (Patch 5.15) – The limited job will have its level cap raised to 60 and receive fresh job quests, Masked Carnivale stages and an expanded job log.
Next Article
Today, Nexon Europe has announced further details about the highly anticipated Lost Saga open beta, inviting all newcomers to join in the mult...
by Mikedot