Ezio from Assassin's Creed and other features coming to Legacy of Discord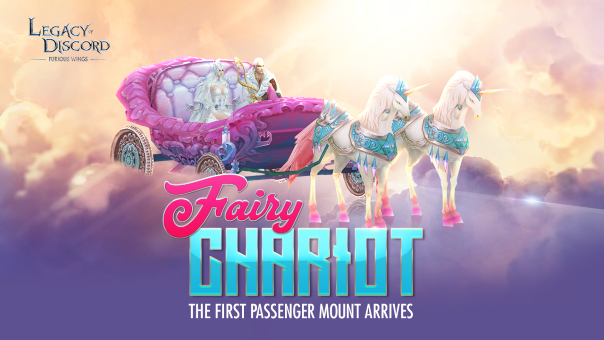 February 8th is the date where Ezio from Assassin's Creed will be joining the mobile MMO, Legacy of Discord – Furious Wings. Along with that, a cross-server dungeon (Godly Zone), and Valentines Day events are also featured in this update. Announced back on February 1st, Ubisoft and Yoozoo Games teamed up to bring Assassin's Creed characters, beginning with Ezio, to the Metamorph System in Legacy of Discord. This licensing deal allows players to transform into legendary creatures and unleash their ultimate powers in battles. Yoozoo Games and Ubisoft have worked closely with each other to create this exclusive content. After this update, players finally can use Metamorph to transform into Ezio, the very lead character from the Assassin's Creed franchise. Transforming into Ezio gives players a big advantage over enemies during battle, including exclusive skills and dazzling special effects. The first of these skills will be Aerial Attack, which causes damage to all enemies in the path while also silencing them. Low HP enemies will instantly be slain. Another of these is Whirlwind Blades. Blades of Air quickly deal damage to enemies in a wide area, and also immobilize/slow them.
The Godly Zone cross-server dungeon can be entered by those who are in the top 100 ranks of the Arena. It opens every Tuesday, Thursday, and Saturday. Lots of chests can be opened in Godly Zone, but the Supreme Treasure Chest will only appear after all other chests being cleared. Players in the same server will receive rewards once the Supreme Treasure Chest is unlocked. However, that's not the end of the dungeon battle. Lots of monsters will spawn after all Supreme Treasure Chests are defeated. Players need to kill all of them to meet the boss of the area. The DMG and HP of these bosses are much higher than that of bosses in other dungeons. Just like the reward mechanism of Supreme Treasure Chest, players in the same server can receive rewards once the boss of the area is defeated. All players will be sent back to their own city after the cross-server dungeon closes.
The final major point is the Valentine's Day events, which include a new legendary pet (Cupid), the "Flowers of Love" event, and the Mount of Love. These all begin on February 11th and the ount of Love is the first passenger mount to be added to the game.
Next Article
Hi-Rez Studios has announced the launch of its latest patch for SMITE, introducing a new hero.
by MissyS
Haunted Empire-Three Kingdoms, published by ELEX, has launched for iPhone, iPad and iPod touch devices in the Apple App Store.
by MissyS