Elsword Revamps PVP in Big Update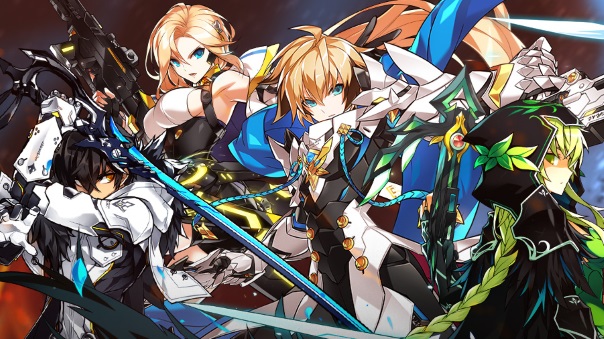 A huge update launched today for KOG Games' Elsword, centered around their PVP system. KOG went all out in the first of a series of PVP revamp updates, bringing balance to the ever-popular competition arena. To celebrate it, players who log in for 10 minutes will receive +10 Sparring Gear per character. This event lasts for only two weeks, and the gear will be removed at the end, so take advantage of it while you can. This update will bring a host of changes to the current PVP scene. Ranking will play a more prominent role. The coveted "Star Rank" will now be calculated and applied to the best of the best PVP players daily. The application will function on a timer attributed to the top 20% of all SSS Ranked Players. New PVP League Rewards will also be introduced, with a selection of rewards for players to celebrate and show off their ranking. Ranks E – Star will receive an "Awakening Custom" effect, and each rank will award a different effect. SSS and Star Ranking players will receive a custom sit motion. These rewards will only be offered until the next season ends. From that point, those who rank on the boards again will receive the rewards. Players can also check the current PVP season's logs from the character window.
Guild PVP will also include rankings, and players can view PVP contribution rates for each member on the Guild window as well as check the Guild's PVP ranking from the Board in town. Arena PVP will support Party Queue again and has been adjusted to be better than ever. If solo players get matched with pre-organized party members, they'll receive 2x rewards for winning and half the points for losing. The following Titles and Equipment stats are applied at 40% of the indicated effect in Arena PVP: Critical Damage, Skill Damage Increase, Mana Cost Reduction, Skill Cooldown Reduction. Players will now be able to select Item/Power mode. Sparring mode now has an option to enable (or disable) normalization in the following manner: Titles (disable), El Resonance Points (Disable), Equipment Stats (Normalized). Players won't be able to use the "Extreme Heavenly Love" Marriage skill in sparring.
In addition to the great gear available for the next two weeks, players can get Complete Recovery Potions for playing in PVP via Quest. Today only, the Enhancement event will activate discounted enhancement packages and reduce the cost of enhancing equipment. If players log in today for 10 minutes, they will receive 2 Blessed Fluorite Ores, 2 Blessed Restoration Scrolls and 2 El's Hammers. All items and gear will help players jump into the freshly updated PVP system and prepare them for the climb to "Star Rank"!
Firefly Studios has just released a new 'Fourth Age' gameplay update for Stronghold Kingdoms, introducing gunpowder and a new defensive we...
by Mikedot
The PC car combat MOBA, Heavy Metal Machines gets ready to dive into the abyss.
by Ragachak