Elsword Launches Multi-Tiered Game Enhancement Update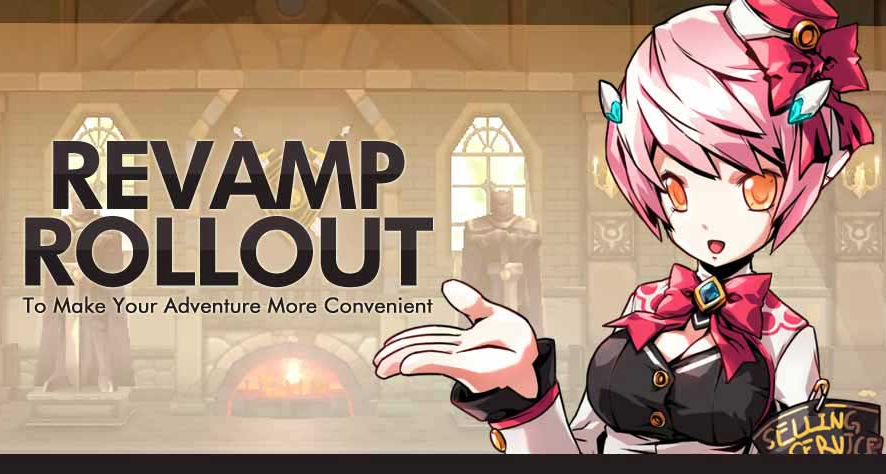 KOG Games, a leading developer and publisher of popular free-to-play action MMORPGs, today announces the launch of a multi-tiered game experience, quality of life revamp!
Some very exciting things have been popping up left and right in Elsword as of late. From the almost simultaneous, global launch of their newest character, Ain, to the livestream announcement of one of the most highly anticipated game features, the Magic Wardrobe; the Elsword team has pulled out all the stops on making sure that the game is constantly keeping things fresh and remarkable.
This update will be no different.
Here's the breakdown:
Major Game Updates
The changes to the overall scope of Elsword will include Quests, Game Systems, Dungeons, and item related revamps. Here's a quick preview of what to expect:
All Characters below level 90 will now need less EXP to level up! This is being done in a progressive manner to minimize the feeling of the MMO "grind" and allow players to experience more of the RPG and story elements of the game all while keeping the feeling of accomplishment and growth up high
Epic Quests have been streamlined to help progression and maintain a linear, fluid feel to Dungeon play. Players only have to play a set number of Epic Quests depending on the region. They also get more Stamina Potions for each Epic Quest they finish!
Customizable "Difficulty" has been removed from all Dungeons from levels 0-90 to accommodate the accelerated growth potential. However, they've been left in for the end-game Dungeons
A number of Dungeons will be dropping better items at a higher rate. This is to provide players with a better return on investment for their dedicated efforts when looking for specific gear
Crafting has been simplified and requires far fewer mat. types. A lot of "trash" items that would typically clutter up a player's inventory for crafting have been removed and consolidated into a far more digestible and functional feature; taking up less inventory, and making more craft-able items available for all
Guild Revamp
The Elsword team is overhauling Guilds for a totally improved and inviting experience. Starting with the fact that the Guild NPC Myu being front and center in every in-game town.
In searching for a Guild, players can now search based on their preferred Guild type: PvE, PvP or Social
The total number of Guildies allowed has been increased to 200 so that Guilds can be as epic or close-knit as a player would like
Guild specific Skills have been reworked to be more enticing for use in group Dungeon runs and overall user friendly and better for Guild-wide use
Guild Services and Guild Quests have been updated and expanded to be more inclusive, engaging and allow Guild Masters and Officers to have more control over the inner workings and access of the Guild features (i.e Guild Bank access)
And most importantly, the actual Guild house has gotten a complete makeover.
Item Lock Revamp
They've also added a new Lock System to protect player gear, costumes, armor and weapons from accidental sale, destruction or manipulation. This is super handy for players who want to make sure that their hard-earned items will never be accidentally junked. Ever.
With the massive 6th Anniversary bash just around the corner, this update is just a glimpse at what else KOG has in store for Elsword players!
Next Article
WarpPortal is excited to welcome European players of Dragonica to join the Dragon Saga server.
by Mikedot
Rock Hippo Productions has announced the launch of Bomb Battle mode for MicroVolts.
by MissyS
Today, Paragon's team has made a major announcement for the game's early access and its business model.
by MissyS