Darwin Project Is Now Free to Play on Steam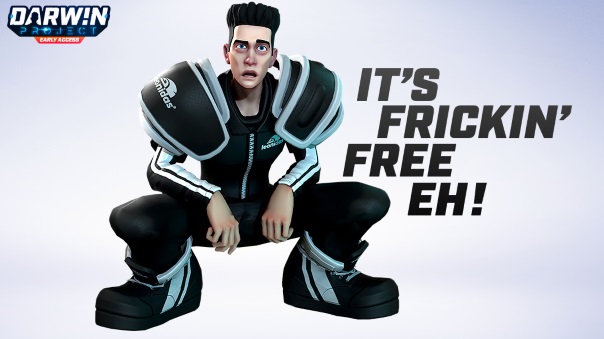 A lot of fun content has come to Darwin Project since it was announced and began the Early Access phase of its testing. After Duo Mode, skill-based matchmaking, limited events, and other improvements, Scavengers Studio is making Darwin Project Free to Play on Steam. Over 200 cosmetic items will be added to the game that players can unlock by gaining fans and leveling up. More on that can be found in the link below. Scavenger Studios has insisted that no item for sale will offer any enhancements or benefits so that the game will not become pay-to-win. If you own Darwin Project, you'll receive the Founder's Pack containing 2 Legendary sets, 3 Legendary Axes, 3 Legendary Bows, a full jumpsuit collection, and 5 Fan Gifts. It will be added to your inventory on Tuesday, April 24.
"We've said from the start that we're committed to creating a fresh and exciting experience for Darwin Project players and viewers. With features like the Show Director who serves as a master of ceremonies, Spectator Interactions that let viewers directly interact with streams, and an emphasis on tracking that ensures players are always within arm's reach of a tense confrontation, we still believe Darwin Project offers a quality experience unlike any other battle royale game out there.
Next Article
Joymax has revealed today a new event to be released with Ignite Silkroad: Part 2 - the Roc Time Attack.
by MissyS
No adventurer should be without a loyal friend; Eidolons will be a cornerstone of gameplay in Aura Kingdom from Aeria Games.
by MissyS
3000AD announced today that its upcoming MMOFPS Line of Defense will make its debut on Steam Early Access in July as part of its public Beta t...
by MissyS