Crossout Rolls Out PVE Overhaul and April Fool's Event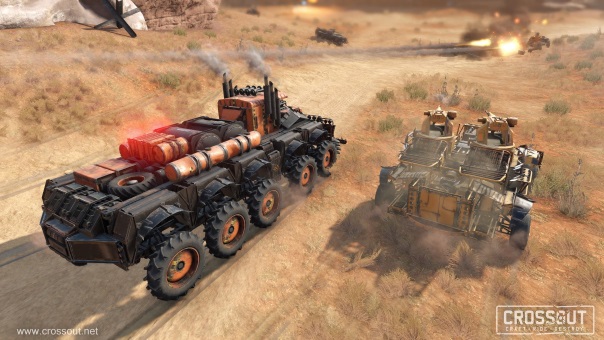 A massive update dropped today for Gaijin Entertainment's Crossout, focused heavily on the PVE experience. Instead of the previously-known single-stage missions, Raid players can tackle a multitude of complex and rewarding scenarios, each holding their own storyline, enemies and tasks. Instead of a simple "escort the truck" mission, now perhaps you steal a cargo truck from somewhere, and fight to keep it. Then, you might realize it needs fuel to get it home, and will have to defeat more of the enemies swiftly, locate the fuel and get it ready to roll. Then the enemy will make one more bold push to get their property back, along with other raiders who may desire this precious cargo. The stories should be far more interesting than simple one-and-done for raids, which is exciting. There are 8 varied Raids in total now, and more scenarios will be unveiled in later updates.
For April Fool's day this year, Crossout players can look forward to an unusual, but exciting PvP experience. Many players primarily craft powerful and intimidating machines of destruction, while others like to construct more…outlandish designs. The game's exhibition hall has seen real works of art – including an awe-inspiring dragon, a knight in shining armor, a vehicle staffed by bloodthirsty ducklings and other, no less creative vehicles. But while most of them are beautiful to look at, they are useless in combat – but not on April Fool's day! The developers have selected the most interesting designs and given them a little upgrade, allowing them to boast powerful weapons.
From March 30th till April 2nd players can clash in a special Brawl on these player creations, but you won't know what vehicle you get until right before the battle. And while you won't be sure whether you'll join as a fire-breathing dragon, a howitzer-armed school bus or something else, you surely won't miss any action. All vehicles are powerful in their own way, and the special Brawl has no respawn limit – on every respawn, you'll get another of those pieces of post-apocalyptic art to try. Players can look forward to special and unique stickers/decorations for their real vehicles, only obtainable in this event.
Next Article
From September 18th until October 1st, Rogue Drones are coming back to EVE Online in a limited event.
by Ragachak
The bloody moon shines through the depressing haze of dusk. Battle steeds gallop ahead and wolves howl throughout the night. Vampires, Humans,...
by Mikedot