Crash Fever Announces 3rd Anniversary Event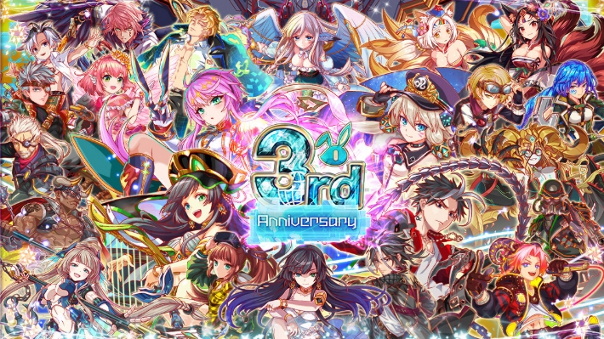 WonderPlanet is proud to announce that Crash Fever was originally launched on October 26th, 2016. With this in mind, the festivities for the month-long celebration begin tomorrow, October 1st, 2019. Never-before-seen Global-original quests and characters will be showing up throughout the month, as well as new regional quests, and some classic quests will be coming back. Limited "Locked Quests" will have players gathering materials to strengthen their characters. These can be played once a day, and information on their availability will be had in-game.
There will be an array of limited-edition Hatchers as well. A free daily Hatcher will offer players 30 characters with each try. Details about this will be released in-game throughout the month. New Medals and other Special Bonuses will be available, with new 3rd Anniversary medals. In turn, they can be used to obtain chances at powerful 65-cost units, which are some of the strongest in the game. The medals are obtained by clearing certain new and classic quests, as well as daily logins. With a new Scratch Bonus, players will have an additional three chances each day at more medals. Weekly Missions will also give Polygons and 3rd Anniversary medals.
For players who have not logged in for more than 15 days, there's also the Comeback Campaign, and they will be welcomed back with a Polygon Gift. The higher their rank, the more Polygons they'll receive. This is available until October 31st. For the first time, Wonderplanet is teaming up with the Crash Fever fan community on Discord in a project to create two new characters for Crash Fever. Crash Fever Global version's official Instagram account will also have special 3rd-anniversary offerings and community challenges.
Next Article
Today, just a couple of short days before their Founder's Program goes live, Behaviour Interactive is happy to announce 18 of their many pla...
by Mikedot
The development team behind Warlord Saga is hard at working every element to deliver the ultimate gaming experience.
by Mikedot
Fifth Season AS who runs AD2460 has just announced that the game will go "free-to-play" on December 7th.
by MissyS