Card Hunter for Windows and Mac launches on Steam today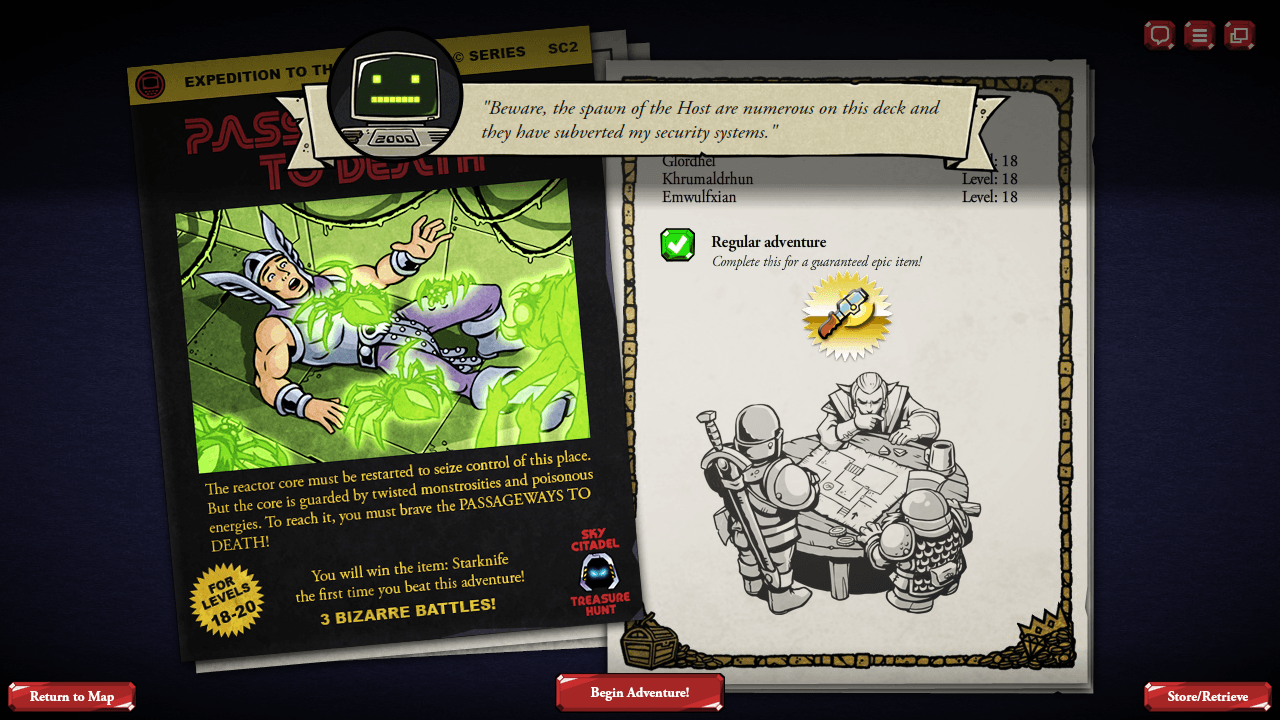 Blue Manchu today announced that Card Hunter is available now for Windows and Mac via Steam. Formerly only available as a browser-based game, the critically lauded combination of card play, deck building, tactical combat and classic fantasy role-playing can be downloaded for free and played via Steam with all the benefits the platform brings, such as achievements and badges.
Across all platforms, brand new expansion Expedition to the Sky Citadel also launches to coincide with the Steam release, along with the long awaited co-operative mode. The new expansion introduces rebellious computer Cardotron 2000, a perfect Game Master from corner to corner of its magnificent 4K of RAM. Cardotron 2000 has no intention of manipulating the game to ensure its army of mutants and uncontrollable robots take over the land of Cardhuntria. Nor was Jonathan Chey, co-creator of Card Hunter, in any way inspired by SHODAN, the megalomaniacal artificial intelligence he and the other co-founders of Irrational Games helped breathe renewed life into back in 1999 for System Shock 2. (Well, maybe a teensy bit.)
To celebrate the launch, Cardotron 2000 has hacked the Card Hunter servers to ensure a steady supply of human flesh for its army to consume, by offering add-on bundles at never-before-seen discounted prices:
Basic Edition bundle (adds new Treasure Hunt adventures, club membership, extra figures and in-game currency) – $19.99, discounted from $25.
Attack of the Artifacts expansion bundle – $12.99, discounted from $15.
Expedition to the Sky Citadel expansion bundle – launching at the same discounted price, $12.99.
To cap it all, Cardotron 2000 has also baited Cardhuntria with daily chests of goodies for all players who log on during the first week after the launch on Steam. Not bad for a sentient being that boots from BM-DOS on a 5.25 inch floppy disk.
"We've had a great response from the Steam community since we announced last week the game would soon be available," said Jonathan Chey, co-founder of Blue Manchu games, "and it's live right now, sooner than many expected! We're looking forward to a whole new influx of players, and anticipating conversations across the forums about heroic co-op struggles against Cardotron 2000, our new GM. Finally, feeble flesh and bone have been superseded by electronic perfection!"
Card Hunter remains free-to-play with the same extensive campaign content, competitive multiplayer and now co-operative features that have been enjoyed by some 500,000 players to date, supported for all the game's free content and expansions, and across all platforms. Card Hunter can be located at http://store.steampowered.com/app/293260 as well as www.cardhunter.com.
Next Article
Melvor Idle is a game heavily inspired by Jagex's renowned RuneScape franchise, and will now be supported by Jagex in partnership with its ...
by MissyS
Bots is Acclaim's take on the popular mech genre but rather than a full fledged MMORPG like Age of Armor, Bots is closer to Exteel, by NC...
by Guest