Brave Frontier's Blossom Festival Launches for Spring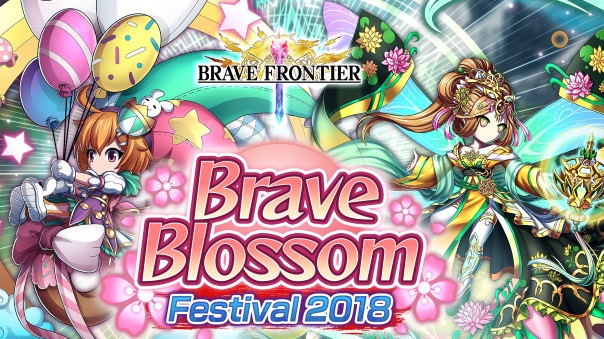 Spring is here, and so is a fun Brave Frontier event to go along with it: The Blossom Festival 2018. It will last from March 21st until April 30th and contain new dungeons, units, raids, and a new feature in Frontier Rift. The login campaign will offer up to 15 gems, 5 Blossom Tickets, and a Free Unit of Choice (from a select group) on the 30th-day login. That's just the start of it though. A new dungeon is on the way, in the form of Ellie's Folly, which has a chance to drop special Brave Blossom Festival rewards such as The Burst Queen (Fusion Material that boosts a unit's Brave Burst/Super Burst to their full potential).
There are also exclusive Global Units during this event:
N'an-Hua – An innocent dragonfly fairy that resides in the Great Southern Plateau region of N'an-xin. She was renowned for her beauty, grace, and wisdom and was adored by infatuated souls and mortals alike. Find out more about the nefarious plot against her and how she was eventually apotheosized as the undisputed Queen Mother deity of N'an-xin – the N'an-Wang-Mu.
Ellie – A trickster spirit with a child-like demeanor, Ellie was created by Paskua's nameless goddess of rebirth as a defender and messenger to its people. Follow her on her adventures as she pursues the trail of magical power from Paskua's borders to meet a lovely rabbit-tamer and her companions.
In addition, there are Free Global Exclusive Reward units made available for summoners to pick up:
Svalinn – Available for Exchange from Insignia Event Bazaar
Elaina – Time-Limited Frontier Rift Guild Event Milestone Reward
Blossom Tickets acquired in this event can be used in the Blossom Omni+ Summon Gates. You can acquire only popular Top 100 units from the Blossom Omni+ Poll from the players, and a Feature Unit of the week from these gates. New to the Frontier Rift, Summoners can now work together with fellow guildmates to reach Rift milestones during a Frontier Rift Event and reap those rewards! In addition, there's a new Blossom Festival Guild Raid this season, packed with a bouquet of rewards and enemies all who are ready to spring into action.
Next Article
In a short open letter posted today, Rebellion - which revealed a Battlezone reboot at E3 - teased one more project in the works.
by MissyS
KOG Games, a leading developer and publisher of popular free-to-play action MMORPGs, is introducing a devilish new Halloween dungeon event for...
by Mikedot
For the Closed Beta spanning since March 24th, invites were limited to 5,000 players to test the game in a more controlled setting.
by DizzyPW