Blazing Core Open Beta Begins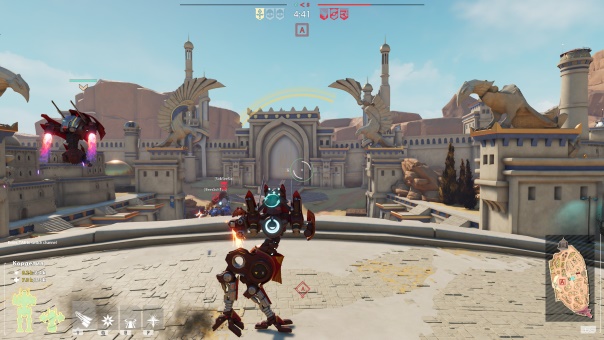 OctoBox Interactive is today proud to announce that mech fans around the globe are invited to face off in successive tactical 3×3 and 6×6 battles to dominate rival teams, in Blazing Core – Knights of the Future, which has now entered the Open Beta phase. Following a successful Alpha launch, PC gamers can expect to enjoy a dazzling array of updates, tweaks and new weapons. Check out the full Features and Weapons lists, below!
New Features
Completely reworked desert map – now featuring majestic temples and bright oriental bazaars, each generously filled with destructible objects Learn new routes, find vantage points and create the winning team tactics
New and reworked perks – make your mech lighter and faster or reinforce its armour. Choose between greater damage or quick recharge
Receive rewards for achieving tactically productive games. Combine each mech's unique ability in battle, play alongside your teammates, and earn medals
Party system – Teamwork is very important and now you can join forces with friends from Steam and form parties. Create a dream team and lead your mechs onto battlefield together!
Tutorial and group chat in the hangar
Help screen for the abilities in battle and new interface for choosing the mech in battle
After dying you will see who destroyed your mech and with which weapon
Dynamic lightning for better visual effects and atmosphere, including heat haze in a desert or mist around mountains
New Gregor weapon: Jet Booster – Impactus, which greatly accelerates the mech and stuns the enemy at impact
New Kara weapon: Supercharger – Valgrind, which increases fire rate and decreases cooldown times for the abilities of your allies caught in the radius of effect
New Weapons
New Martinus weapons:
Rocket Launcher – Viviane. Shoots unguided missiles with high AoE damage
Shuriken Catapult – Etoile. Shoots three projectiles that bounce off the environment and explode after hitting the enemy
Swarming Missiles – Vallée de Mort. A barrage of guideless missiles. Suitable for midrange attacks
Swarming Missiles – Gibier de Décès. Cluster missiles that fly in an arc, lock onto the target and explode at impact dealing small AoE (Area of Effect) damage
New Warmaster weapon: Flak Cannon – Wingu. Creates a cloud before the mech, impenetrable to enemy attacks. When activated, lowers the speed
New Cordelia weapons:
Protocol – Makers shield. Temporarily grants additional armour to allies caught in the radius of effect
Sniper revolver – Noctis. High damage revolver suitable for any distances. Needs time to focus
New Ventum weapons:
Plasma Cutter – Back-alley Partner. Deals repeated damage after hitting the Suitable for close distances
Chain Spear – Nerv Strike. Hits the target with an electric charge that travels through the chain from the mech to the spear and blocks all enemy mech's abilities. The chain can be broken
Pulse scanner – Celerity. Increases allies' speed and decreases their visibility.
press release
Nexon teams with famed illustrator Jeong Juno (Lineage 2) to bring to life a new roleplaying game on iPhone and Android.
by Ragachak
Try out the new features with the free update
by Mikedot
The all-new mobile MMORPG, Honor of Heirs, has officially launched! Players can head to the App Store or Google Play Store to download the gam
by MissyS