Ashes of the Singularity: Most Advanced RTS Game Ever Announced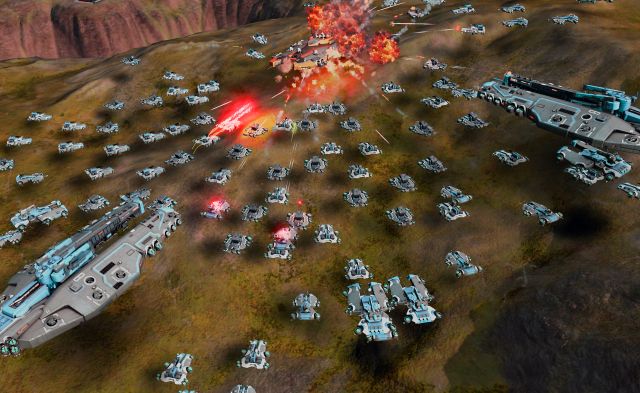 Humanity embraces its next evolutionary phase while an existential war is waged on an unprecedented scale across the galaxy: at this year's Game Developer Conference, Stardock pulls back the curtain on Ashes of the Singularity, revealing the long-awaited first title to harness the groundbreaking power of developer Oxide Games' Nitrous engine. The Founder's Program for Ashes of the Singularity is now live at http://www.ashesofthesingularity.com
Humanity long ago shed its mortal skin and developed into beings of pure consciousness. But the Singularity is a thing of the past and the very future of human existence is being threatened. Though the post-humans wield godlike power, they find themselves at war for domination of not just the Milky Way but all galaxies with Haalee, the sentient AI, who is bent on saving the universe from post-human predation.
"In Ashes of the Singularity, players can take command of the forces of either the post-humans or those of Haalee," said Brad Wardell, president & CEO of Stardock. "This is a galaxy-wide struggle in which each 'battle' wages across the surface of an entire planet. The scope of the conflict is unlike anything players have seen before."
Pouring your human consciousness into thousands of deadly constructs, the time has come for you to join epic confrontations where countless robotic manifestations of war smash each other into scrap only to be replaced as factories convert all available matter into a steady stream of fresh war machines. In this war for ever-more intelligence, where control of matter to fuel the expansion of computing power is the only goal, the struggle will inevitably consume the galaxy…one planet at a time.
A real-time strategy game on a scale never before seen, where even the smallest units have diverse, independent weapons systems on them and every shot fired has its own targeting solution and ballistics model, Ashes of the Singularity explores entirely new and engaging gameplay fundamentals coupled with jaw-dropping visuals. With literally thousands of units acting independently on screen at the same time, players are introduced to a familiar infrastructure of real-time strategy gameplay while focusing their attention not on small engagements between a handful of units, but instead waging large-scale wars across multiple simultaneous battlefronts.
"The scale of Ashes required us to create a new type of 3D engine," said Dan Baker, graphics architect at Oxide Games. "We wanted to make a game that didn't just depict a battle but an entire war in real time, with thousands of independent units acting simultaneously."
Ashes of the Singularity offers innovative multiplayer alongside its epic single-player campaign that tells the tale of the Singularity and complications arising from humanity's evolution away from physical form. League structures, leaderboards, stats and other features will be announced as development continues, powered by Stardock's cloud-based Project Tachyon metagaming services (led by lead architect Adrian Luff, who helped build Blizzard's Battle.net).
Founders will be invited to the friends-and-family alpha test before the general public. Founders also get access to exclusive behind-the-scenes development materials in the Founders Vault and a discount off of the game's full price. Dedicated fans can also purchase a lifetime subscription to all forthcoming Ashes of the Singularity expansions and DLC for a one-time cost. Details available at http://www.ashesofthesingularity.com/store.
Ashes of the Singularity demos take place this week in booth #2655 by appointment only at the Game Developer's Conference in San Francisco's Moscone Center. Ashes of the Singularity can also be seen in the Microsoft area of the expo floor.
For more information please visit http://www.ashesofthesingularity.com
Next Article
Square Enix today launches Final Fantasy XIV Patch 3.1, As Goes Light, So Goes Darkness.
by MissyS
The eight best Rocket League teams from Europe and North America will battle it out to prove who's the best once and for all!
by MissyS
PUBG Mobile revealed a new "Gameplay Management" system today, aimed at encouraging healthy, sustainable gaming habits.
by Ragachak