Aftercharge Brings CrossPlatform Multiplayer to Life Next Week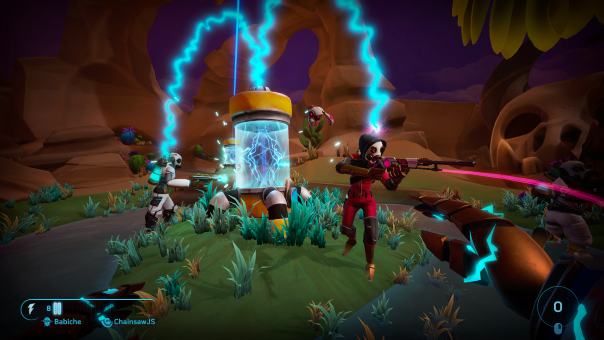 Aftercharge is a battle that pits the Invincible versus the Invisible and hits PC and Xbox One next week. Thursday, January 10th is the big day for Chainsawesome games, and it promises to be one of 2019's most unique titles. The fully cross-platform title won't be easy to leap into. But Chainsawesome Games has a few tips for their players, to help them get ready to do battle in this wild, electric battleground.
It's an FPS Unlike Any Other – Failing to Plan is Planning to Fail: You may have played many other shooters before but nothing like Aftercharge. Think with your head and not just your weapons — strategic actions are essential. If you go charging in without a plan you're likely to fail.
Workonics: You Can't Kill the Defenders: When playing offense as the workonics, remember that the enemy team is invincible. They can't die! Try your best to avoid them as your punches will only push enemies aside.
Enforcers: You Don't Have Unlimited Ammo: Shooting and using abilities as the defending enforcers consumes energy. You have to manage your energy carefully as it can only be recharged at extractors or deployed recharge stations.
Workonics: Recharge Your Buddies Quickly: There is no respawn in Aftercharge. When your robotic allies get taken down, it's your number one priority to revive them with an electrified tap! Revives have no cooldown, cost, or cast time — go go go!
Enforcers & Workonics: Class-Based Abilities: Choose from five character classes per team and test out each of their unique abilities that can turn the game around when used correctly. Play to your strengths and your opponents' weaknesses. Review abilities in-game by pressing F1 to open the help screen.
Next Article
The past week I have been fighting all sorts of battles, ones that can only be solved with a proper gun and enough ammo.
by Proxzor
The second day of any major convention is always a tad bit slower than the opening day. Or perhaps you just are after having survived opening ...
by MissyS