4:33 Creative Lab Reveals Monster Super League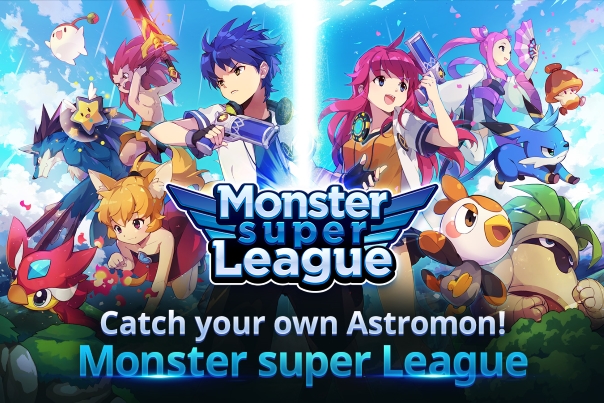 In the wake of a new wave of capture, collect and evolve mobile games, leading mobile game publisher 4:33 Creative Lab revealed its latest action-packed, collection mobile role-playing game (RPG), Monster Super League – coming soon worldwide to the App Store and on Google Play. Pre-registration is now available via PreLaunch.Me. Players that pre-register for the game will received a special pre-registration reward.
For fans of collection modern and classic, Monster Super League is a unique take on strategy RPGs, giving players the chance to journey through eight distinct regions filled with over 550 unique and lively Astromon to capture and train – each Astromon fitted different elements and combat styles. Players will assemble an army of the cutest of allies with Monster Super League's on-field capture system, and evolve them into powerful forces to be reckoned with in the Astromon League using the game's customizable growth system and sea of enemies to challenge.
Youngho Park, CEO of 4:33 Creative Lab said:
Monster Super League is an extremely nostalgic title, reminiscent of 90's gaming and popular series that paved the way for much of what we see in mobile gaming today. Monster Super League gives players a modern twist on the 'catch'em all' craze that so many gamers were and are fond of, and we excited to see the competitiveness of players grow as they fall in love their Astromon and work towards their development and growth in Monster Super League.
In Monster Super League future Astromon trainers will:
Embark on an engaging, yet treacherous single player adventure to become a legendary Astromon trainer and champion of the Monster Super League;
Traverse through eight stunningly designed story regions and three special regions;
Capture, collect and evolve diverse and powerful Astromon across the different lands;
Dominate the Leagues and compete in dynamic PvP battles with a trained team of their best fighters;
Earn special and rare rewards and Astromon during intense battles.
Pre-registration for Monster Super League is available now on PreLaunch.Me for iOS and Android. All players will receive 200 Star gems 100,000 Gold of in-game currency upon launch. Monster Super League will be available for free to download on iOS and Android devices worldwide.
Next Article
With the release of U24's Heart of Madness, Dungeons and Dragons Online flings open the gates to Xoriat, the Realm of Madness, home of th...
by Guest
Square Enix has announced the release of its first vampire map for Nosgoth, called "The Fane."
by MissyS
June 5th is a big day for APB Reloaded, with the live beta for APB RIOT going live as the largest content update yet.
by Ragachak