MMOHuts has partnered with Eudemons Online (http://eo.99.com/) team to bring a special Free Newbie Pack for new players to challenge the Goddess Expansion in the world of Eudemons! The pack will give you several amazing prizes!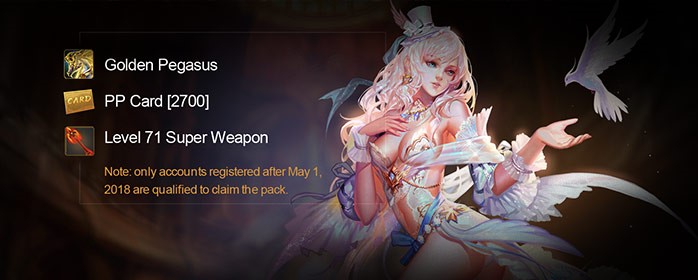 Eudemons Online is a Free-To-Play fantasy MMORPG presented by TQ Digital. In this mythic world, you can choose to be a Warrior, a Mage, a Paladin, a Vampire, or a Necromancer. Over one hundred distinct Eudemons are ready to assist you in your travels. Select and train them wisely to add extra power to your character, and use them to your advantage in the fierce battles you will face. Since launched, Eudemons Online has attracted over a million players worldwide. Join and prove yourself on the world-class stage now!
---
Gift Packs Include:
Golden Pegasus(B)
PP Card[2700]
Level 71 Super Weapon(B)
Event Rules:
Event Duration: May.17th to June.16th (PST)
One gift per new created character.
Only for new players who have successfully registered during the event.
How to Redeem Your Gift?
Step 1: Sign up for FREE on the Event Page (http://v2.g.99.com/Hit.aspx?Id=3949)
Step 2: Download the game and login to create a new character.
Step 3: Find the gift pack in your inventory.
Giveaway is no longer active.