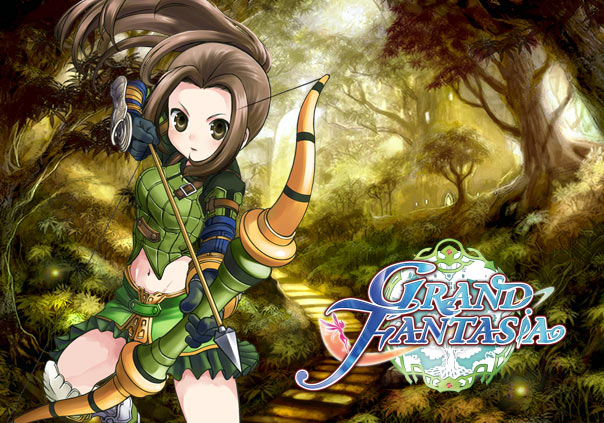 Grand Fantasia is a 3D Fantasy MMORPG developed by X-Legend, the same folks who made HolyBeast Online. Like HolyBeast, Grand Fantasia is a brightly themed game with anime-inspired graphics. Perhaps the most unique aspect of the game is its detailed 'Sprite' pet system. Fans of cute anime inspired games like Luna Online and Fiesta Online should certainly be able to find something to like in Grand Fantasia – but even though the game has fluid gameplay and attractive graphics, it does little to push the genre forward. Even though the game doesn't exactly revolutionize the genre, Grand Fantasia is still a high quality free MMO that's well worth checking out. Players start off their journey in Grand Fantasia as a classless novice and can chose their first class at level 5. The game's first four job advancements are:
Fighter – Fighters are all around capable melee characters with a large pool of hitpoints. They can use the heaviest armor in the game which makes them excellent for absorbing damage. Fighters become 'Warriors' at level 15 and can become either 'Paladins' or 'Berserkers' at level 30.
Hunters – Hunters are an agile damage dealing class. They can use both bows and dual weapons to defeat their enemies. Hunters become Archers at level 15 and can become either 'Assassins' or 'Rangers' at level 30.
Acolyte – Acolytes are the primary 'supportive' class in Grand Fantasia. They can cast both healing and buff type spells – which make them incredibly useful in any group. Acolytes become priests at level 15 and can become either 'Clerics' or 'Sages' at level 30.
Spellcaster – Spellcasters are the primary offensive magic users in the game. They can cast powerful spells to quickly defeat their enemies. They are also one of the most fragile classes in the game, as they tend to have the least hitpoints and defense in the game. Spellcasters become Mages at level 15 and can become either 'Wizards' or 'Necromancers' at level 30.

Status: Released
Release Date: Dec 01, 2009
Business Model: Free to Play
Developer: X Legend
Publisher: Aeria Games
Category: Stand-alone
Genre(s): 3D, MMO, RPG, Fantasy
Platforms: PC

Editor's Score: 4/5

Pros:

+Unique 'Sprite' pet system.
+Many different kinds of mounts (Flying and regular).
+Solid character customization options.

Cons:

-Generic fantasy theme.
-PvP only available at level 21+.
-Repetitive musical score.



Recommended System Requirements:

OS: Windows 98 / XP / 2000 / Vista / 7
CPU: Intel Pentium 4 2.6 GHz or better
RAM: 1 GB
GPU: nVidia GeForce FX 5700 / ATI Radeon X 1600, or better
HDD: 2 GB