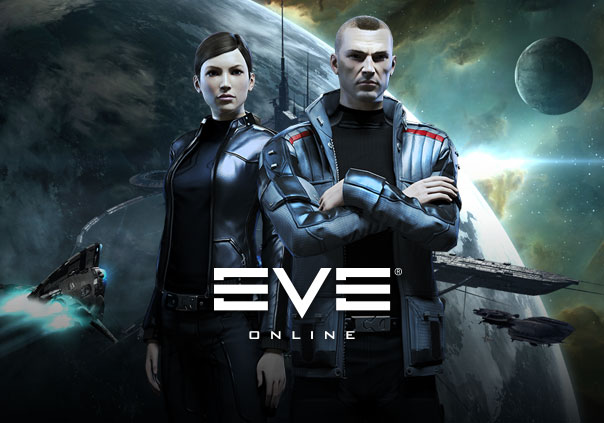 EVE Online is a free-to-play sci-fi MMO available on Steam for PC and Mac that allows players to create a custom avatar to represent them in its absolutely massive game world. The game boasts over 5000 systems you can travel to, through an extensive star gate network. You can develop your character using hundreds of skills, each of which is your choice — there are no mutually exclusive skill branches in EVE Online. You can also select your ship from hundreds of different models, which are highly customizable. Much of EVE is player based. Corporations are mostly player run and operated, and the economy is almost completely player run as well. The extensive political system is also player run. Everything in game is time-based, from research to development, but the game offers you plenty of activities in order to thrive. There are four major factions to chose from each with well developed lore and several ancestry and blood line options.
Amarr Empire – A deeply religious, authoritarian state. Structured as a theocracy, the Amarr are led by their Emperor whom they worship as a deity. The Amarr Empire is the largest force in the galaxy and controls 40% of the known solar systems.
Caldari State – The Caldari State is a union of several Mega-Corporations who control every aspect of society. The fierce competition between the ruling corporations maintains a system of meritocracy that has allowed this relatively small nation to rival the larger empires in both military and economic force.
Gallente Federation – The only true democracy in New Eden, the Gellente value liberty and human rights above all else. They welcome people of all cultures into their territory and thus are a very multi-cultural state. The only thing they are intolerant of is intolerance itself and so remain ever vigilant in the defense of their Federation and its ideals.
Minmatar Republic – Though they are the most populous people in the galaxy, the Minmatar prefer loose political ties. Many Minmatar clans have united to form the Republic but many remain enslaved in the Amarr Empire or have settled in Gallente territory seeking new opportunities.

Status: Released
Release Date: May 06, 2003
Business Model: Free to Play
Developer: CCP Games
Publisher: CCP Games
Category:

Stand-alone

Genre(s):

3D, MMO, Sci-Fi, Strategy, Simulation

Platforms:

PC, Mac, Steam


Editor's Score: 5/5

Pros:

+Persistant, player driven galaxy.
+Hundreds of skills, ships, and weapons.
+Thousands of systems to explore.

Cons:

-Many missions and systems are similar.
-Open PvP may not appeal to all.
-Very complex gameplay.



Recommended System Requirements:

OS: Windows 7 / 8.1 / 10
CPU: Intel i7 Series or AMD X4 @ 2.0 GHz or greater
RAM: 4 GB
GPU: AMD Radeon 6790 or NVIDIA GeForce GTX 560 or better with at least 1 GB VRAM
HDD: 20 GB



Description: In EVE Online, start out as a rookie pilot out to make a name for yourself. Choose and develop hundreds of skills, preparing yourself for whatever role you'll take in the ever-expanding galaxy.
This weekend I found a bit of free time to play Guild Wars 2's "Path of Fire" demo weekend. A smart move on ArenaNet's part for sur...
by Ragachak
Webzen announces that its latest update for Shot Online is now live, introducing the Shot Online World Championship (SOWC).
by MissyS