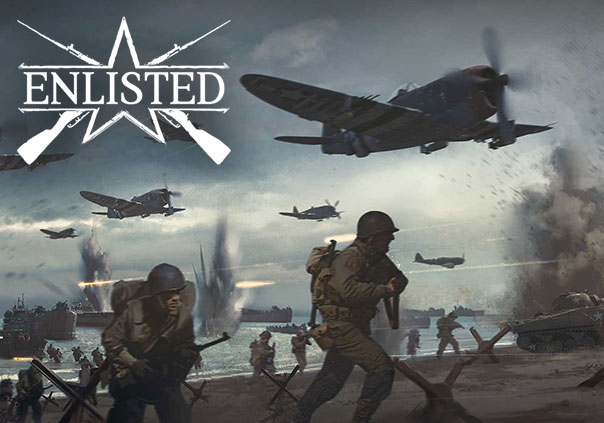 Enlisted is a buy-to-play squad-based shooter developed by Gaijin Entertainment and is expected to see a console release once development has been completed and funding goals have been reached.
In Enlisted players can fight in some of the most famous World War 2 encounters throughout different campaigns. Each encounter (episode) of World War 2 will be further divided into separate chapters within the battles, giving players the sense of actually "walking in a solider's shoes". Both 15 versus 15 and 30 versus 30 player battles will be available in Enlisted, but each of them will be more than just arena-based shooting, including various tactics and scenarios that are intended to have a similar feel to real combat missions.
Battles are intended to have historical accuracy to further the feeling of authenticity. At one point you might become a solider in Moscow trying to hold off enemy troops and armored vehicles, or you might become part of a landing squad trying to capture some sort of foothold so the majority of the main forces can make their own landing. Although eliminating enemies does help most situations,  you won't always be trying to kill every enemy your encounter. Your objective will be the primary focus of your battle.
Units will become an important part of your battle strategies, giving you the chance to control an entire squad of shooters and not just a single character. After gathering you're unit you'll take them into battles and try to complete your objective, lasting until victory is secured or until the last member of your unit dies.
With a unique combination of unit-based tactics, first-person shooting, and an emphasis on authenticity Enlisted will give you more than just one way to appreciate World War 2 campaigns!
Status: Pre-Release
Business Model: Retail
Developer: Gaijin Entertainment
Publisher: Gaijin Entertainment
Category:

Stand-alone

Genre(s):

3D, MMO, Shooter

Platforms:

Xbox One, PS4



System Requirements not yet known.


Description: Enlisted is a buy-to-play squad-based shooter where players can experience the most famous World War 2 encounters and control their own unit of troops, leading them through objective based campaigns where killing isn't the only thing that matters.
For those of you who did not read my original review of Destiny, it's a beautiful game. Nobody can argue that the game is absolutely gorgeou...
by Ragachak
Fans of Other Ocean Interactive's upcoming crowd-designed, 8-player platform esport #IDARB can download the game for free when it debuts nex...
by Mikedot
After several beta tests, live conventions, media and press showcases, Boss Key Productions has unleashed their premiere FPS title.
by Mikedot