ArenaNet Launches Pre-Purchase for Guild Wars 2: Heart of Thorns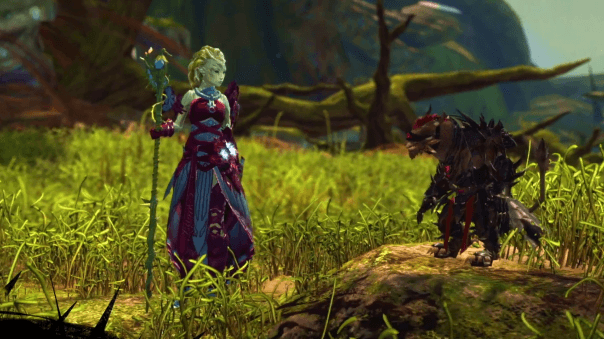 ArenaNet™, publisher and developer of the acclaimed Guild Wars franchise, today used the stage at the PC Gaming Show at E3 for a surprise announcement. The studio delighted fans in the audience as well as those tuning into the livestream by revealing that pre-purchase for Guild Wars 2: Heart of Thorns, the upcoming expansion to Guild Wars 2®, is now live across territories in the West. ArenaNet is offering a unique pre-purchase program with perks for all buyers that include access to upcoming beta weekend events along with a variety of virtual items available across three editions, some of which are immediately playable in the core game. All pre-purchased editions of Heart of Thorns also include Guild Wars 2, letting new players who don't own the core game instantly begin their journey into one of the most acclaimed MMO games of all time.
Pre-purchasers can choose from among three editions of the expansion offering different levels of in-game perks and rewards, with all of them available at buy.guildwars.com:
• The Standard edition ($49.99) includes Guild Wars 2 core game and Guild Wars 2: Heart of Thorns, grants access to upcoming expansion beta weekend events, and gives players the exclusive "Maguuma Trailblazer" title.
• The Deluxe edition ($74.99) includes everything in the Standard edition as well as an additional character slot, a miniature revenant Rytlock, a revenant finisher, the player's choice of one of three Mordremoth's Bane guild hall decorations, and a stylish glider skin.
• The Ultimate edition ($99.99) includes everything in the Deluxe edition in addition to 4,000 gems, a $50 value.
ArenaNet has released a video that showcases all of the virtual items players can acquire when they buy each of these editions. All virtual items will be delivered to players' accounts immediately. The glider skin and guild hall decorations will be usable when Guild Wars 2: Heart of Thorns launches.
ArenaNet's surprise pre-purchase announcement came at the end of an interview at the PC Gaming Show where host Sean "Day[9]" Plott and ArenaNet game director Colin Johanson unveiled guild halls, a slate of group and social play features coming with Guild Wars 2: Heart of Thorns.
"Guild halls in Guild Wars 2: Heart of Thorns are so much more than the name implies, they are a body of features that will represent one of the deepest community and social focused systems of any online game world," said Johanson. "At their core, guild halls are maps that guilds can own, progress, decorate, customize and grow. They include a customizable brawling arena, a war room to build tools to go to war against other guilds in World vs. World PvP, a new crafting discipline called the Scribe, and that's just a few of the highlights. As a whole the features are designed to emphasize community, give players a place to call their own and build a shared history in the game, and even activate player creativity in ways that have yet to be seen."
ArenaNet will build on what was revealed at the event by releasing exciting new details and assets about guild halls throughout E3 week with press interviews and developer blog posts, all leading up to a first-look at the features in-game on a special livestream this Friday. Fans are encouraged to stay tuned to the Guild Wars 2 website this week then tune in to a special episode of "Points of Interest" on the official Guild Wars 2 Twitch channel (www.twitch.tv/guildwars2) this Friday, June 19, at 12 p.m. PDT.
To stay updated on the latest Guild Wars 2: Hearts of Thorns features and for more pre-purchase information please visit https://heartofthorns.guildwars2.com/.
Next Article
The fast-paced, gravity-defying LawBreakers has announced a festive holiday event that runs through December and into the New Year.
by Ragachak
Starting today, MU Online's Speed Event Server is officially live, offering double xp until April 10th.
by Ragachak
The Red Bull Mobile Esports Open is a tournament series focused exclusively on mobile gaming, and it's back.
by Ragachak