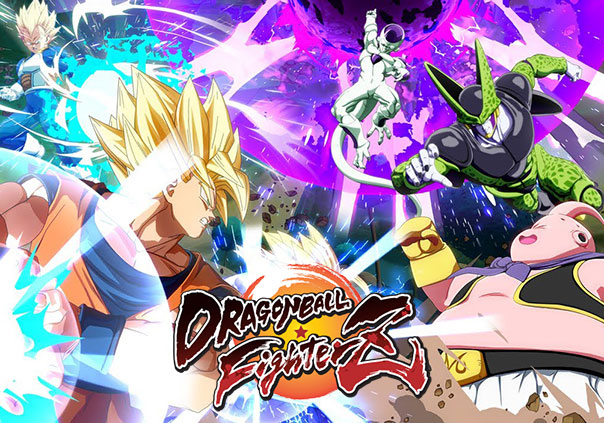 Dragon Ball FighterZ is an upcoming 2D fighting game set in the Dragon Ball universe developed by Arc System Works for PS4, Xbox One, and PC.
Dragon Ball FighterZ brings back the favorite core elements of Dragon Ball fighting games: heated fights with spectacular fighters, but this time you can form a team to fight with. Now you can engage in intense 3 versus 3 battles where mastering more than one fighter means you'll be even more capable on the battlefield. Other characters on your team can be called in for an "assist" move, further increasing the number of attacks you can chain together and the combos you can make up. You can also outright swap to one of your other team members, using them as your primary fighter while your previous fighter takes up a support spot.
In this fighting game practically anything goes. This means things like aerial combos and destructible stages will become your best friends. Many famous scenes from the anime series will also be played out as you progress, bringing you even closer to the action. Some of the currently known characters you will encounter and play as are Buu, Frieza, Gohan, Goku, Perfect Cell, and Vegeta, many of which have different forms that can be assumed.
Don't think your characters are going to be reimagined in this title either. Dragon Ball FighterZ stays faithful to its anime roots in the most intimate of ways. You'll be doing battle on stages that feel like they were ripped right from the anime and blasting away at your enemies with skills that are gorgeous, insane, and great representations of similar effects seen in the anime.
With fast gameplay, devastating combos, and slight throwback feeling to traditional side-scrolling fighting games Dragon Ball FighterZ promises to give players engaging gameplay that is not only fast paced, but feels meaningful. Only the flashiest of skills await you in this rapid fighter game!
Status: Pre-Release
Release Date: Dec 31, 2018
Business Model: Retail
Developer: Arc System Works
Publisher: BANDAI NAMCO
Category:

Stand-alone

Genre(s):

2D, Fighting

Platforms:

PC, Xbox One, PS4



System Requirements not yet known.


Description: Dragon Ball FighterZ is an upcoming 2D fighting game where players can create a team of fighters from their favorite Dragon Ball characters and do battle. If you're looking for a game that is a faithful adaptation from the Dragon Ball anime, then look no further!
Novaquark is proud to announce that their Alpha Test for Dual Universe is now in the hands of everyone who donated.
by Ragachak
Kabam, a world leader in free-to-play games for traditional players, has partnered with Marvel Entertainment to bring the expansive Marvel Uni...
by Mikedot
Wild Warfare is the latest multiplayer action game from rapid game development studio, Hyper Hippo Games. With a lengthy list of upcoming feat...
by Mikedot