gPotato EU celebrates Valentine's Too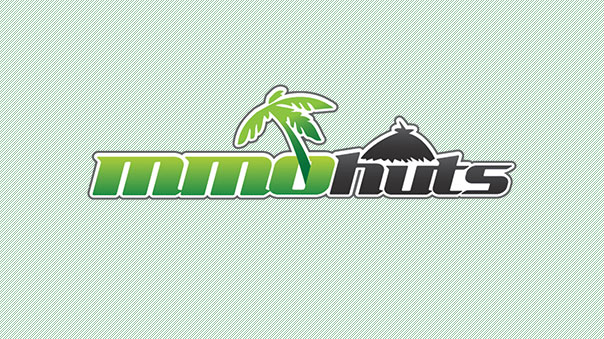 gPotato (Gala Networks) Europe has also prepared to celebrate Valentine's Day with its players across its games as follows:
* Canaan Online: Players will obtain experience point items throughout the day, and in-game events will offer players the chance to get marriage items. A community competition also asks players to submit pictures of their real-life pets for prizes.
* Castle of Heroes: Until the 19th of February, players can take part in a Romeo and Juliet themed series of quests. The game will also host a funny love competition on Facebook for items including Rice Ball hero upgrades, grade equipment drops, and Goblin's Toolboxes.
* Dragonica returns the Cookie Factory mission map, new Cupid outfits, and a new Port of the Winds vending machine.
* Flyff players can enjoy Valentine's until February 23, by defeating the Love Thief. Collecting heart pieces lets players earn Loyalty Chocolate, 3,000 experience, and a special ticket. These tickets will determine the winner of an angel versus devil competition, with rewards going to both sides depending on whether they won or lost.
* Rappelz players can find herbs and flowers to combine into a lucky box, which may contain Rings (with stat bonuses) or Bouquets (which improve stamina regen). Valentine's Chocolates can also be found as drops, and a side event will offer a chance to win a "Love" looting pet for a short story about the person they love. Rappelz is also celebrating its fourth anniversary for German and French servers, and will grant players 100% bonuses to Lak, drops, and Exp and Anniversary boxes. Other Rappelz servers will get 50% bonuses to celebrate the anniversary.
* Terra Militaris is giving players a week of love with double and triple experience days, removed taxes from the auction house, reduced requirements for neutral area battles, and a Facebook event with prizes to be had.
Rappelz Gameplay Screenshot
Source:
Gala Networks Europe Sends Valentines to All

Valentine's Day Special Events Revealed

Dublin, Ireland – Gala Networks Europe, one of the leading free-to-play games publishers and operator of the www.gPotato.eu portal, has revealed the romantic events it will be holding across its suite of MMO titles throughout the Valentine's Day period. A huge array of special events, item drops and all manner of other lovely happenings will be coming to Canaan Online, Castle of Heroes, Dragonica, Flyff, Rappelz and Terra Militaris.

Canaan Online will be full of passion on the 14th February, expressing its love for its players by sending out experience point items to all players. Events will be run to win marriage items, allowing players to receive the in-game experience and money gained from being in a party with a marriage partner. The community will also be invited to submit pictures of their real-life pets in a competition to find the cutest pet owned by a Canaan Online player, with fabulous in-game prizes up for grabs.

Castle of Heroes is celebrating the Valentine period between 14th and 19th February with a very special two-part quest themed around Romeo and Juliet. Players must assist the two lovers by distracting border patrols and defeating border control offices, allowing the two lovers to meet in the land of Kimmeria. Running alongside the romantic quest is a Facebook competition, where Castle of Heroes GMs will post a funny picture and players must declare their undying love for the subject of it in the comments. The best five declarations will win an array of in-game prizes, including items such as Rice Ball hero upgrades, 20 good-to-excellent grade equipment drops in the form of Goblin's Toolboxes and a Gold Recruitment Card to speed up unit recruitment times. Everyone who posts a declaration of love will automatically receive 10 Goblin's Toolboxes, meaning there are no losers in love for Castle of Heroes players.

Dragonica will see the return of the Cookie Factory mission map, which comes with two new modes and two never before seen bosses named Coofie and Ademia. The modes are defence and tower defence challenges, and players completing the Cookie Factory will be rewarded with event items that can be traded with NPCs for new jewellery sets. Additionally, new Cupid outfits will be available and a new vending machine will appear in Port of the Winds, stocked with new items.

From 9th of February to 23rd February, Flyff will have a Valentine's visit from two unique NPCs in the form of an angel and a devil, and the appearance of a special monster, the Love Thief. Players that defeat the Love Thief will obtain pieces of a broken heart, which can be given to either the devil or the angel. Collecting and giving 100 heart pieces will grant players Loyalty Chocolate, 3,000 EXP and a special ticket, depending on which side they give the 100 pieces to. After the event, the total number of tickets collected will be counted and whichever side gave out the most tickets will be determined the winner, with boxes of random rewards given to both sides, but the winner's boxes will be full of cool rewards and items such as the Black Panther Hoverbike, Pet tickets and Cloak Exchange tickets. The loser's box will give a random pick of food and drink items.

Valentine's in Rappelz brings special drops in the form of herbs and flowers, which can be combined to receive a special lucky box; from this, players will be able to acquire powerful items such as Rings, which will provide bonus to character's stats, and Bouquets, which will improve their stamina regeneration. Valentine's chocolate will also appear in drops during the event that will run from the 07th to the 14th of February. Besides, players will have the chance to participate in a side event where they will have the chance to win a special "Love" Looting Pet together with an Outfit of their choice. To win those prizes they will have to create a short story, along with an in game screenshot, to express their feelings for the person they love.

As well as the Valentine's events, February will mark the 4th anniversary for Rappelz's German and French servers. gPotato.eu will be awarding players with a 100% drop, Lak and Exp bonus and players will be able to find special 'Anniversary Boxes', which offer the chance to receive special items normally available only in the Guild of Merchants. To round off the 4th anniversary celebrations, the Rappelz team has decided to organize a fantastic giveaway; via social media and in game events, German and French players will be able to win three 'Razor Packets', each containing a Razer Mouse, a Razer Keyboard and a Razer Headset, at a total value of 250€. The other countries with Rappelz servers won't be left out of the grand celebration, as the drop, Lak and EXP bonuses will be set at 50% for the duration of the anniversary events.

Seven days of romance are coming to Terra Militaris with Mars & Minerva Love Week, starting on the 9th February and running until the 16th February. Themed around the love of the Roman gods of war and knowledge, the event will see a doubling of EXP for the entire run, with an extraordinary triple EXP day on the 14th February. The auction house will be showing its love to Terra Militaris players by removing all taxes for the week, and a special blessing from Mars will lower the requirements for engaging in battle in neutral areas. This opens the doors for smaller guilds to participate in big battles for controlling holy shrines. Running alongside the in-game event is a special Mars & Minerva Love Week Facebook event, where fans are invited to contribute a love message to Terra Militaris itself, its gods or even its GMs, on a special event page. These can take the form a love letter, a poem, a photograph with comments, a drawing or a single sentence to represent the Valentine's spirit. The winners will be decided by community voting via liking the submissions and a cool pack of in-game items will be awarded to the top 10 'most liked' posts.

For more information, visit each game's official website via www.gPotato.eu.
Next Article
GUNS and ROBOTS is an online shooter, featuring annihilating robots, dominating fields of battle with wide variety of fun, deadly weapons and ...
by JamesBl0nde
Today KOG Games, publisher of the hit free-to-play MMO Brawler, Grand Chase, releases the highly anticipated Ronan character renewal.
by MissyS
2018 is definitely the "Year of the Battle Royale". Every company seems to have gotten on the train, and now it's Tencent's turn.
by Ragachak