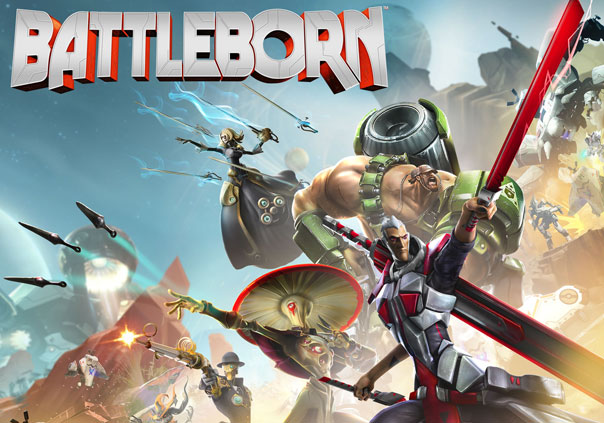 Battleborn is a 3D shooter developed by Gearbox Software and is available for preorder on PC, PS4, and Xbox One on Battleborn's official website. Battleborn is set on the planet Solus, featuring refreshing visuals that are a blend of both fantasy and sci-fi elements. Many of the species of the universe fled to Solus after a catastrophic event and now have to cooperate with each other in order to fight back against the Varelsi, the cause of the event.
In Story Mode players can play through a vivid narrative by themselves, with friends locally or alongside others online, but the main focus of Battleborn is its Multiplayer experience which features three distinct game modes with MOBA elements:
Incursion – The classic MOBA matchup. Two opposing teams of heroes must work together with their allies and help their minions destroy the enemy base while simultaneously defending their own base from the enemy minions and heroes.
Devastation – Two opposing teams of heroes must battle against each other while capturing and holding various objectives on the map to achieve victory.
Meltdown – Two opposing teams of heroes must escort their team's minions to the center of the map where the minions will enter an incinerator and give their team points. The team with the most points wins.
Battleborn also features both persistent and non-persistent progression systems. In the non-persistent progression system called the Helix System players can level-up their hero from levels 1 to 10 in the particular match they are in, unlocking new weapons and abilities in that match for their hero. In the persistent progression system players can earn experience points in every match they play, both in Story Mode or in online matches, which will contribute to leveling up both Character Rank and Commander Rank. As Character Rank increases for a specific hero players will unlock new skins and Helix tree augmentations for that hero. As Commander Rank increases players will unlock aesthetic changes for their player profile and loot that will affect every hero that is played.
With its unique art style and differing progression systems, Battleborn is sure to impress all types of players.

Status: Released
Release Date: May 03, 2016
Business Model: Retail
Developer: Gearbox Software
Publisher: 2K Games
Category: Stand-alone
Genre(s): 3D, MOBA, RPG, Fantasy, Sci-Fi, Shooter
Platforms: PC, Xbox One, PS4

Editor's Score: 5/5

Pros:

+Refreshing, unique visuals.
+Both persistent and non-persistent progression contribute to replayability.
+Varying hero concepts.

Cons:

-Progression systems somewhat daunting to non-MOBA players.



System Requirements not yet known.