UPDATE: This game has been shutdown and is no longer available
Zone 4: Fight District is a 3D, fighting MMO with varied game modes and plenty of martial arts styles to master.  Zone 4 offers a story mode where players can work together to clear stages in classic brawler fashion.  Fight your way to the top, form gangs, and battle it out with up to 32 players per match.
Publisher: OGPlanet
Playerbase: Medium
Graphics: Medium Quality
Type: MMO
EXP Rate: Medium
PvP: Multiple Modes
Filesize: 590mb
Pros: +Cooperative Story mode. +Wide variety of fighting styles. +6 unique characters. +Free for all and team based modes. +16vs16 Turf Wars.
Cons: -Repetitive gameplay. -Poor English translations. -Overpowered special attacks. -Limited number of competitive game modes.
Overview
Zone 4: Fight District Overview
Zone 4: Fighting District is an upcoming free-to-play brawler MMORPG.  Players will be able to choose from six characters and several fighting styles, each of which contains hundreds of special moves. Zone 4 includes a persistent central hub, competitive PvP modes, and a cooperative story mode wherein up to four players can work together to clear instanced stages.  Zone 4 has the same Arcade brawler feel as Dungeon Fighter Online ,but boasts 3D graphics and ditches the fantasy theme in favor of a modern feel.
Fighting Styles - Tae Kwon Do, Muay Thai, Boxing, Capoeira, Pro Wrestling, Judo, Hapkido, Sambo, Kung Fu, and many more!
Zone 4 Features
An Arcade Story Mode – Fight through hordes of enemies alone or up to four players, with new stories, levels, and episodes added via monthly content updates.
Challenge Mode – See how many thugs you can defeat at once as you fight your way through waves of enemies and boss fights for high scores, achievements and prizes.  Can you fight through all fifty stages to dominate the Zone?
Team Deathmatch – Join up with your friends and take on other players.
Free-for-all Deathmatch – Take on all comers in a free-for-all brawl held in massive arenas.
Item Mode – Beat up rival players or AI controlled enemies with randomly generated items and power-ups.
16vs16 Turf Wars – Guilds face off against each other for bragging rights and supremacy as up to 32 players brawl to defend their turf.
Zone 4: Fight District Screenshots
Zone 4: Fight District Featured Video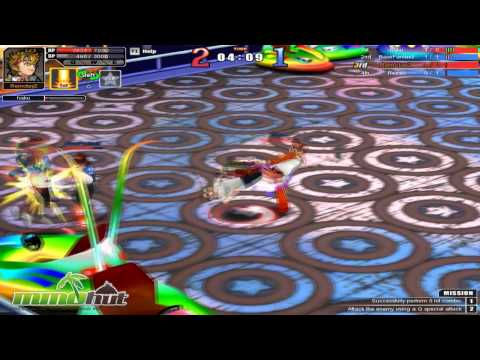 Full Review
Zone 4: Fight District Review
By Erhan Altay
With Rumble Fighter and Lost Saga, OGPlanet established itself as the go-to place for fighting MMOs.  Zone 4: Fight District is their latest brawler, but it manages to do enough differently to stand out.  The game offers instanced co-op missions, and lobby-based PvP.  Add to that the wide range of supported fighting styles and Zone 4 stands out as an in-depth MMO that's easy to play, but difficult to master.
Punching Above its Weight
The Zone 4 client is around 500 MB, which makes it easy to download and play.  While the graphics aren't spectacular, the animated style helps smooth over some of the rough edges.  The visuals and gameplay in Zone 4 are more 'realistic' when compared to more anime-inspired fighters like Lost Saga or GetAmped 2.  There are six characters to choose from; three male and three female.  Each varies in age and appearance.  Some are bulkier than others, but all have the same small selection of appearance customization options.  Players can choose from three hair, shirt, pants, and shoe colors.  Zone 4 also allows players to chose either black or white as their skin tone.  Appearance customization isn't very in-depth during character creation, but there are plenty of hair styles, clothes, and other accessories available in-game.  More importantly, players have to decide whether they want their character to be a Street fighter or Rush fighter.  Street fighters focus on crushing attacks and can specialize into Tae Kwon Do, Boxing, or Muay Thai when they hit level 10.  Alternatively, Rush fighters specialize in hold attacks and can master Wrestling, Judo, or Hapgido.  Each account is given two free character slots per server so players can experiment with both variates.  Addtional character slots are available.
Training Grounds
An optional tutorial explains the game's controls, and rewards experience and zen (the in-game currency) each step of the way.  New players are encouraged to run through the tutorial, but it can be revisited at any.  All gameplay aspects are controlled with the keyboard.  The arrow keys control movement, and double tapping in one direction will cause characters to dash.  The three most important abilities are standard attack (D), grab attack (S), and dodge (A).  In addition to these, there are three special attacks: basic (Q), combo (W), and extreme (E).  Special attacks consume SP and excel at different situations, which the tutorial explains.  Next, players are taught how to attack two enemies at once using a double attack (S) and how to work with an ally to team up against an opponent.  Items can be enabled or disabled in Zone 4, but its important to know how to use them.  Brown crates containing power-ups spawn across the map and can be picked up and used by hitting the 'F' key.  Even in games without items enabled, stages will contain various weapons that can be picked up.  The final step in the tutorial is to fight a practice round against the AI-controlled 'Speak Man.'  Completing the tutorial brings a new character up to level three.
Town Center
The game world in Zone 4 is made up of several districts, each with over a dozen channels.  Players are free to move between channels and districts, which are persistent environments.  It is from these environments that players access the PvP arena and the instanced cooperative stages called 'arcades.'  Also scattered around these areas are merchants, storage boxes, ranking boards, slot machines, and other objects to interactive with.  The first place new players should head to is the Hunting Zone, marked by a blue icon on the zone map.  The Hunting Zone is composed of several large areas filled with AI controlled enemies to grind off of.  There's no real objective in the hunting zones, and it is much easier to gain experience and zen in them than it is to clear arcade stages.  It is entirely possible to grind in the hunting zone by spamming D, D, D, D, D, but players should resist that urge.  Instead, they should take the time to try out different combos and get a feel for the game.  By combining arrow key strokes with different attacks, players can widely expand their available moves.  Players can see a full list of available skills in their room which is accessed by hitting F6 or the appropriate button on the bottom right of the screen.
Not Your Average Arcade
When players are ready to tackle a co-op arcade stage, they must form a party and enter one of the teleporters marked on the map.  Up to four players can work together on a stage, and its best to go as a full team.  It is possible to play arcade mode alone, but the enemies are actually difficult.  Players will find themselves dying often, even on the early stages.  Contrast this with Dungeon Fighter Online or Divine Souls where the first half a dozen (or more) stages are a cake walk.  Each arcade has its own theme with some of the earlier ones including a hotel, a park, and an inner city district.  Each arcade area has a boss and comes with rewards upon completion.  As players progress through the game, they will acquire or be able to purchase new clothes and hairstyles.  New skills can also be acquired and upgraded using zen.  There are a bevy of stats to keep track of in Zone 4, but luckily the game does it for you.  There's no need to manually allocate stat points.
It Comes Down to This
There's a lot to do in Zone 4: Fight District, but the most important gameplay aspect is still the lobby-based brawler mode.  Players can host or join matches that support from 2-8 players.  There are two basic gameplay modes, deathmatch and survival.  In deathmatch, individuals or teams compete to see who can get the most kills in the given amount of time.  Survival is a last man (or team) standing affair.  Either mode can be set to single (FFA) or team-based.  The room host also chooses whether to allow items, equipment, or neither.  While the controls in Zone 4 are simple to understand, getting a hang of things will take a few rounds.  The community tends to favor team matches by a large margin, so at least new players will have allies to fall back on.  The flip side to this is that two or more players working together will be able to kill an inexperienced player without him or her barely noticing.  Luckily, players respawn after a few seconds in deathmatch mode.  A larger problem seems to be level imbalances.  The game does allow hosts to tick off an auto-balance box, but this doesn't solve the problem.  The guy who is 10 levels higher than you will still pound you to the ground while the high level player on your team is busy harassing someone else.
Polishing a Gem
Zone 4: Fight District is still a new game – at least here in the US.  The Korean developed fighting MMO has a few rough edges that need polishing.  As it moves from beta to final release, many of these problems will undoubtedly be remedied.  Firstly, there is no good reason for a notice screen to pop up every time someone joins the gang (clan) you're in.  Level-based match channels should be introduced, and some of the English translations need work.  The gameplay in Zone 4 requires more technique and team work than other fighters, which can be seen as either a strength or a weakness.  The fact that there is more to do than just fight other people is a plus, but some of the PvE areas, especially the Hunting Ground, feel mechanical.  Who wants to 'grind' in a fighting game?  Overall, Zone 4 could use a little more direction.  Admittedly, these are minor issues and they shouldn't stop fans of the fighting genre from enjoying an excellent title.
Final Verdict: Good
Zone 4: Fight District is a versatile fighting MMO with both PvE and PvP game modes.  Work together to clear stages in beat 'em up fashion, or take the action to the arena in team-based and FFA brawls.  Zone 4 is easy to learn but difficult to master.
Screenshots
Zone 4: Fight District Screenshots
Videos
Zone 4: Fight District Videos
Zone 4: Fight District Official Trailer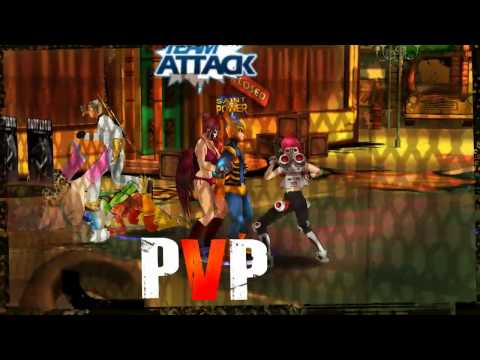 Zone 4: Fight District Tutorial Video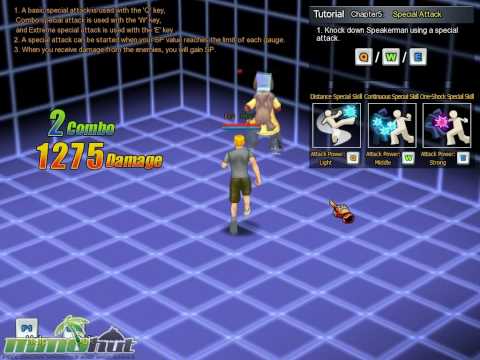 Zone 4: Fight District Gameplay Footage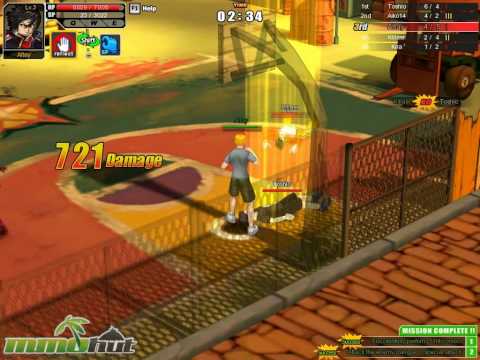 Zone 4: Fight District Gameplay – First Look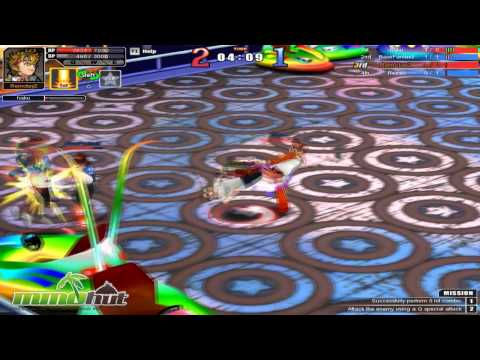 Links
Zone 4: Fight District Links
System Requirements
Zone 4: Fight District System Requirements
Minimum Requirements:
OS: Windows XP / Vista / Windows 7
CPU: Intel Pentium 4 2.0 Ghz
RAM:  1 GB
HDD: 2 GB Free
Graphics Card:  nVidia 5600 GT
Recommended Specification:
OS: Windows Vista / 7
CPU: Intel Pentium 4 2.5 Ghz
RAM: 2 GB or more
HDD: 3 GB Free
Graphics Card: Geforce 6600 GT or better