Wasp Enters Marvel Contest of Champions on July 5th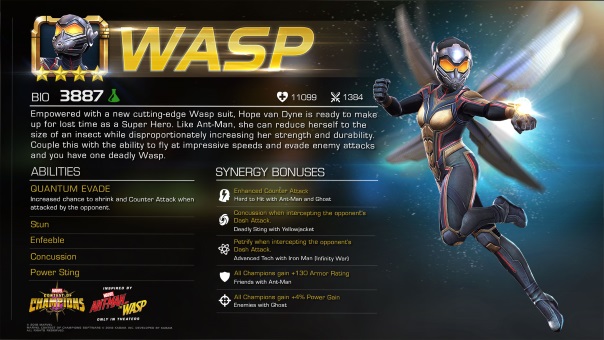 Hope van Dyne is the daughter of Janet Van Dyne and Hank Pym from the Marvel Cinematic Universe (Earth 199999) and will be joining Marvel's Contest of Champions starting on July 5th, 2018. She's empowered with a new, cutting-edge Wasp suit, and is ready to make up for lost time. Capable of reducing her size to that of an insect and also has the ability to fly at incredible speeds and evade enemy attacks. A science-based character, we also have her stats and abilities below.
Base Stats & Abilities
*All stats based on 4-Star, Rank 5, Level 50, Signature Level 99
Health: 11099
Attack: 1384
Max PI:
Without Signature: 3887
With Signature (99): 4750
 *All stats based on 5-Star, Rank 5, Level 65, Signature Level 200
Health: 22253
Attack: 2775
Max PI:
Without Signature: 7825
With Signature (200): 10460
Basic Abilities: Stun, Enfeeble, Concussion, Power Sting
*All abilities based on 4-Star, Rank 5, Level 50, Signature Level 99
Special 1: Insect Size – Wasp shrinks down to the size of an insect, knocking down the opponent with a flurry of attacks.
Special 2: Quick Sting – Losing sight of Wasp even for a moment will result in a series of painful stings.
Special 3: Titanic Treat – Wasp uses her Pym Particle Disks to blow up a bubble gum package to the size of a car, crushing opponents upon impact.
Signature Ability: Quantum Evade – Increased chance to shrink and Counter Attack when attacked by the opponent.
Heroes Evolved pushes out an amazing five new heroes and alternate skins in today's Eternals
by DizzyPW
Get an early look at Sinestro in the latest Champion Profile video from Infinite Crisis, the free-to-play MOBA from Turbine based in the DC Un...
by Mikedot
Recently Valve has been spoiling us Dota 2 fans with frequent big updates including new game modes, heroes, and game features. Once again, Val...
by DizzyPW