Warframe Den of Kubrow Bonus Week Begins Now!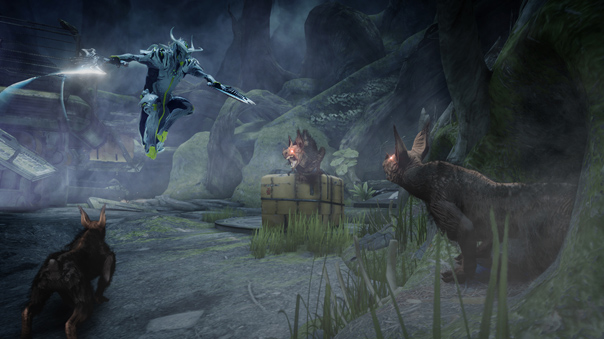 Digital Extremes' Warframe® today launched Den of Kubrow Bonus Weeks for the Warframe community. The special Den of Kubrow Bonus Weeks are for all Warframe players (called Tenno, in-game) across the PC, Xbox One and PlayStation®4 System and will involve a variety of activities running from May 14 through 26.
Over the next two weeks, Tenno can login and play the cooperative third-person shooter to receive a free Kubrow Starter Kit, which allows them to raise their very own furry companion. The Kubrow are a canine-like egg-laying species that first served as companions and pets to the Orokin, and later as fiercely loyal guard animals for Orokin elite. Players who participate in the Den of Kubrow Bonus Weeks also receive a Kubrow gene mixing kit for breeding and can play a special 4-day Tactical Alert with a prized Wraith weapon as reward (highly coveted among Tenno).
Players should also keep an eye out for additional surprises, including a community event involving the newly reared Kubrow, character-building Double Resource, Affinity and Drop Chance days, plus a lucrative Platinum sale and BOGO deals.
The official www.Warframe.com website contains more information on Den of Kubrow Bonus Weeks, including exact start and stop times for various components of the special.
Earlier this week Warframe also launched a major content update on PC. The new Tubemen of Regor Update for PC includes a new tileset, weapons and customizations along with expansions to the PvP-focused Conclaves area and the Co-op encouraging play found in the Trials.
To celebrate the Tubemen of Regor, we've launched a special Dragon Mod + giveaway, and we've just set a new batch of keys live alongside this news announcement! Get your Warframe pack now!
To learn more about Warframe, download the game and join the community, please visit the official website at www.warframe.com.
Next Article
Last week, Magic: The Gathering Arena added a hotly demanded feature: direct challenge.
by MissyS
The pool of roughly 8 to 9,000 backers can look forward to upcoming hour long tests throughout the coming weeks and a few stress tests going l...
by DizzyPW