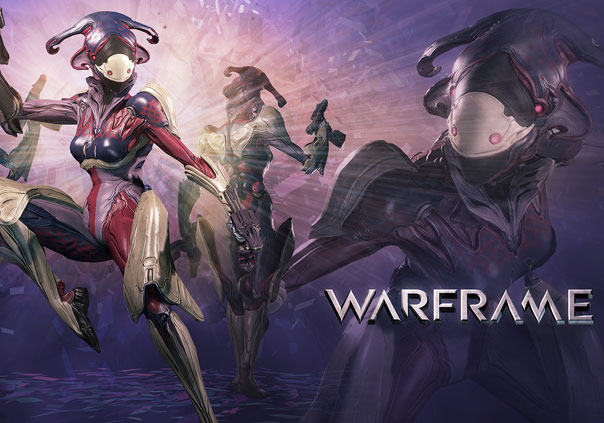 Warframe is a free-to-play multiplayer sci-fi shooter developed by Digital Extremes for PC, Xbox One, and PlayStation 4 that is also available for download on Steam. In Warframe players can become one of the Tenno: warriors of blade and gun that were also masters of the Warframe armor. Those that survived the old war were left drifting among the ruins, but now they are needed once more.
The Grineer, with their vast armies, are spreading throughout the solar system. A call echoes across the stars summoning the Tenno to an ancient place. They summon you.
Allow the Lotus to guide you. She has rescued you from your cryostasis chamber and given you a chance to survive. The Grineer will find you; you must be prepared. The Lotus will teach you the ways of the Warframes and the secrets to unlocking their powers.
Engage in action-packed combat that will have you running along walls, performing advanced acrobatic maneuvers, and going down zip lines while blasting and slicing at your enemies. Warframe is intended to primarily serve as a PvE game where players can work together to take on armies of space grunts, mobile turrets, and hordes of creatures in a gorgeous sci-fi world. That is not to say the game does not include PvP. Players can compete against each other in Duels, Conclaves, and Solar Rail Conflicts that pit different numbers of players against each other with different objectives. Duels are matches fought between two players, Conclaves are large-scale PvP missions, and Solar Rail Conflicts pit two teams of four players against each other in attack/defense matches.
Warframes (Classes):
Excalibur – The perfect training Warframe: the Excalibur suit allows players to explore the power of Warframes with a balanced set of capabilities.
Loki – Desired by advanced players, Loki offers a variety of re-configuring abilities. The abnormality of Loki's powers allows players to manipulate the battlefield.
Mag – (support, can deplete/replenish shields, has AoE crush) With full command of surrounding magnetic energy, Mag is an expert at enemy manipulation. She is a perfect choice for players that want to deal heavy damage in unconventional ways.
Rhino – (tank, close combat specialist, very sturdy) The perfect training Warframe: the Excalibur suit allows players to explore the power of Warframes with a balanced set of capabilities. Rhino is the heaviest of all the Warframes. His strength enables him to combine a mix of devastating offensive attacks with formidable defensive powers.
Volt – Volt can create and harness electrical elements. This is a high-damage Warframe perfect for players who want a potent alternative to gun-play.
Ember – (pure damage dealer, can ignite and burn lightly armored, unshielded enemies like the Infested) Ember is a nightmare for light – armored targets. Ember can super-heat the air which opens up surprising crowd-control possibilities.
Ash – (melee specialist, futuristic ninja, can use Shurikens, throws smoke bombs, and his ultimate ability is a teleport-slash move) Ash is great for players looking for a more stealthy approach to combat. Lethal abilities are complemented by powers of distraction.
Trinity – Trinity is great for players who prefer a supportive role. Warframes with healing technology are rare making Trinity a great equalizer when the odds are stacked against the Tenno.
Banshee – Using sonic attacks and acoustic target detection, Banshee is well suited for stealth gameplay and is capable of filling both attack, and supportive roles.
Frost – By channeling moisture and vapor in the surrounding environment, Frost creates formidable defenses and lethal attacks from sub-zero conditions.
Nova – Nova uses electromagnetic energy to contain and control highly volatile antimatter that fuels her abilities.
Saryn – Saryn's venomous attacks are horrifyingly effective against organic and synthetic enemies, and her ability to "shed" her skin makes her very elusive.
Vauban – The highly tactical Vauban uses his powers to create deadly traps that can zap, imprison and dimensionally crush enemies.
Nekros – Nekros uses his dark powers to manipulate his enemies, both living and dead.
Valkyr – Forged in the labs of the Zanuka project, the original Valkyr was subject to cruel experiments leaving her scarred, angry and frighteningly adept at killing.
Oberon – Equally adept at healing friends or striking down the enemy. Oberon embodies the balance Tenno are sworn to uphold.
Zephyr – Specializing in air attacks and mobility, Zephyr dominates from above.
Hydroid – Rising from the ocean depths, Hydroid harnesses the power of water to a devastating effect.
Mirage – A master of illusion, Mirage confounds the enemy in a spectacle of style and power.
Status: Released
Release Date: Oct 24, 2012
Business Model: Free to Play
Developer: Digital Extremes
Publisher: Digital Extremes
Category:

Stand-alone

Genre(s):

3D, MMO, Sci-Fi, Shooter

Platforms:

PC, Steam, Xbox One, PS4


Editor's Score: 4/5

Pros:

+Coop or Solo Gameplay.
+Clan based Dojos & Clan Dueling.
+Individually Upgraded Characters and Weapons.

Cons:

-Linear Progression in Missions.
-Gameplay can feel repetitive.
-Cash shop can be misleading.



Recommended System Requirements:

OS: Windows XP SP 3 or newer
CPU: Intel Core 2 Duo e6400 or AMD Athlon x64 4000+
RAM: 2 GB
GPU: Nvidia GeForce 8600 GT or ATI Radeon HD 3600
HDD: 10 GB



Description: Warframe is a cooperative free-to-play online action game set in an evolving sci-fi world. Join your friends in player-vs-enemy raids across the solar system and master the power of the Warframes. Stand alone or fight together against enemies that threaten your world.
Gravity Interactive has launched Ragnarok Online as an Android application, with an iOS version coming soon.
by MissyS
IceGames has revealed their first details of the upcoming Chapter IV: Ninja World War expansion to popular Naruto team-combat MMO, Naruto Saga...
by Mikedot