Trove – Geode Launches Today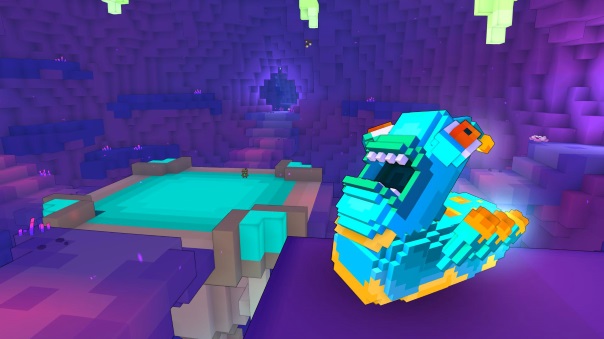 The latest expansion to Trove – Geode launches today. The latest update finds the Trovians on a brand new planet, with a near endless network of caves to explore. This free expansion also adds a new mode, Bomber Royale – a fast a frenetic free-for-all mode where players lob bombs at each other until only one Trovian is left standing at the end. Up to 20 players will do battle with a variety of different bombs to throw, demolishing the terrain and each other in equal measures. Trove – Geode is the next chapter in the Trove tale, with a new look and feel alongside a selection of new weapons, costumes, hats, mounts, wings and much more.
The world of Geode is filled with weird and wonderful lifeforms. Players will find eggs throughout Geode's labyrinthian caves, hatching them into companions that will accompany them on their journey and reward them with special benefits on their journey. The first phase of this adventure has players collecting and exploring within the caves of Geode, but the greater mission will take place later on in this year. But there are tons of new things to collect and companions to find to prepare yourselves for the ultimate showdown for the planet's future.
The Open Beta for Karos Online is here! Unfortunately though, the game launched with many bugs and glitches - the most annoying being the conn...
by Guest
Perfect World has announced details about the upcoming expansion to Forsaken World: Nightfall.
by MissyS
Meta description preview: The Elder Scrolls Online has today launched Update 11: Shadows of Hist on PC/Mac.
by MissyS