Summoners War Roundtable Interview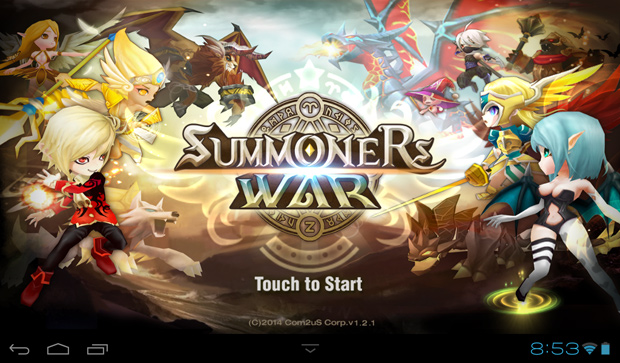 When I was visiting with the Summoners War team for their Americas' Cup, I had a chance to sit down with Casey Lee (CEO) and TaeHyoung Kim (Game Developer) concerning the game itself, development, their secret to success and much more. Unfortunately, there were some issues with the recording, so we had to re-do the interview over email, and here is what I asked the Summoners War! I enjoy the game, and certainly enjoyed their insight on mobile gaming.
Ragachak: There is such a vast number of monsters in Summoners War at this point. Are there any staff favorites that really stand out?
Summoners War: This is a very difficult question! There are so many different monsters every one of our staff members are fond of but to name a few, they would have to be: Hwa, Artamiel, Diana, Huan, Tesarion, Tarq, Perna, and Triana and the biggest interest is in the new 5 Star monsters Dryad and Druid.
Ragachak: How does the creative process work for coming up with new units? Are there any go-to sources for inspiration (particular mythos, etc)?
One thing I find interesting about Summoners War is that every monster has a version of itself in every element. What inspired this design choice?
Summoners War: We're always doing our best to look for inspiration and ideas, so we can create fresh new content to incorporate into the game. It's not just games that we're looking at either. We're also delving into cartoons, novels, dramas, and other forms of media to come up with ideas. With Summoners War having been in service for over four years, there are currently roughly 600 different
types of Monsters, and with such a large number of designs, it is getting harder to create new ones.
Which is why you could say, we're always "thirsty" for new ideas. Even at this very moment, I'm trying to come up with a way to make the next new Monster even more enjoyable to use! I don't believe that we have some sort of special inspiration pool or source where we can draw ideas from. It's more like we just keep brainstorming and brainstorming until we suddenly realize "Hey! This might be a fun Monster to add to the game!"
Once we finally come up with an idea for a new Monster, then we proceed to move on with the art and planning for it. After that, we formulate Skills that fit the new Monster best, and then we proceed to work on the graphics animations for them.
Ragachak: Would you say that every unit is viable in a serious PVP setting, or do you recommend more Awakened/Purple Star units?
Summoners War: I would say that every unit is better awakened. They always get one of the following: a new skill, an improvement to an existing skill, or increased stats. So if you want to make the most of the Monsters you have, they should definitely be awakened.
Ragachak: Summoners War has been alive and well in the mobile world for a long time now. What do you think the secret is to your success in terms of longevity?
Summoners War: Releasing new and substantive content updates consistently and really listening to our community feedback have been keys to the game's success and longevity. But not only that, but I think the runaway success of Summoners War can also be attributed to the love and support from the fan community. We've really been blessed with fans that are passionate about the game. They are the reason why it made sense for us to expand this IP into a range of entertainment verticals such as animation, comic books, and toys.
Ragachak: On the note of mobile success, what do you think the key to success as a global esports title in the mobile world is?
Summoners War: I think that the key to esports success is how engaged our fans are with content outside of the game itself. Finding new ways to enjoy the Summoners War IP means the content outside of gaming has to be just as entertaining. Featuring fun casters, showcasing exciting matches, and amplifying unexpected turn of events such as DRMZJoseph's run to become the SWC Americas Cup champion. Despite ranking the lowest out of his  competitors and having a team comprised of basic Monsters, Joseph managed to take full advantage of element attribute relations, Runes, and the new Pick-Ban rule to dominate the competition and show the world just how important strategizing can be.
Ragachak:  One thing I find interesting about Summoners War is that every monster has a version of itself in every element. What inspired this design choice?
Summoners War: The biggest reason was that we wanted to provide a more enjoyable gameplay experience in terms of battles. We wanted to make sure to design Monsters so that they have their own set of relationships and weaknesses, from which players can have fun devising strategies during battle. It was from this process that we came up with the idea of different attributes for each Monster, although it might seem a bit old-fashioned and outdated…
With the attributes of Fire/Water/Wind, we felt that we could use these to better come up with characteristics and personalities for the Monsters. However, as we've mentioned before, the standard 3 attributes felt a little too stale, which is why we came to add Light and Dark attributes to add a bit of unique flair to the game.
Kill3rCombo has revamped the Gates of Darkness level in Elsword, as part three of the three phase Elsword Awakened update.
by MissyS
Project CARS aims to deliver the most authentic, beautiful, intense and technically-advanced racing game ever developed
by MissyS