Star Crusade War for the Expanse Heads for GDC 2016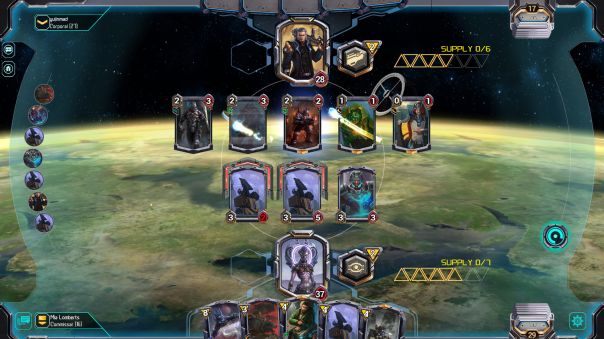 Independent developer ZiMAD announced today it will launch the free-to-play, online collectible card game (CCG), Star Crusade: War for the Expanse on Steam and iOS this spring. Currently in beta on Steam, the game will put players in control of one of six mighty factions vying for power in a faraway sector of outer space. The game will also be on display at the Game Developers Conference in San Francisco at South Hall Booth 2041, March 16-18.
Star Crusade will offer a deep and highly customizable card battle experience with more than 400 playable cards set in a rich sci-fi universe with multiple play modes, including single-player matches, ranked matches and random draft "raid" battles. The game also emphasizes strategic deck construction by letting players vary the size of their decks from 25 to 40 cards; smaller decks start the game first and develop more quickly, but larger decks have more survivability. In addition, the beta version will soon add "Modules," a unique new game mechanic that will let players further customize their powers before battle. Future updates will add new cards, new play modes – such as four-player 2v2 cooperative play – and new features such as full deck sharing, gifting and epic, long-term events in-game.
"There are few truly dominant players in the digital CCG scene, but we intend to change that," said ZiMAD producer Alex Rechevskiy. "We feel so strongly about the strategic deck construction, Modules, and multiple play modes in Star Crusade – which we know will add tons of variety to the genre – that we're ready to take on all comers. Come play the game at GDC and see for yourself!"
Star Crusade: War for the Expanse will feature hundreds of distinctive cards upon release and many more to come in the form of expansions, offering deep strategic options for CCG veterans while still remaining accessible for newcomers. The game's fast-paced combat and countless combinations of card- and faction-specific tactics, supported by frequent content updates, will offer limitless strategy. Star Crusade is scheduled for release this Spring for PC via Steam and for iOS.
For more info, visit http://store.steampowered.com/app/415270/
Next Article
Independent videogame developer Whalebox Studios today announced the launch of the Kickstarter funding campaign for Goliath.
by MissyS
Seal Online: Blades of Destiny announced that their Christmas Update is just a few days away, arriving on Dec. 18th.
by Ragachak
GameFuse, a leading publisher of free-to-play online games, is pleased to announce that Rise of Mythos Version 1.2, the next addition to the h...
by MissyS