ShellShock Live adds 3 Game Modes, Price Reduced to $6.99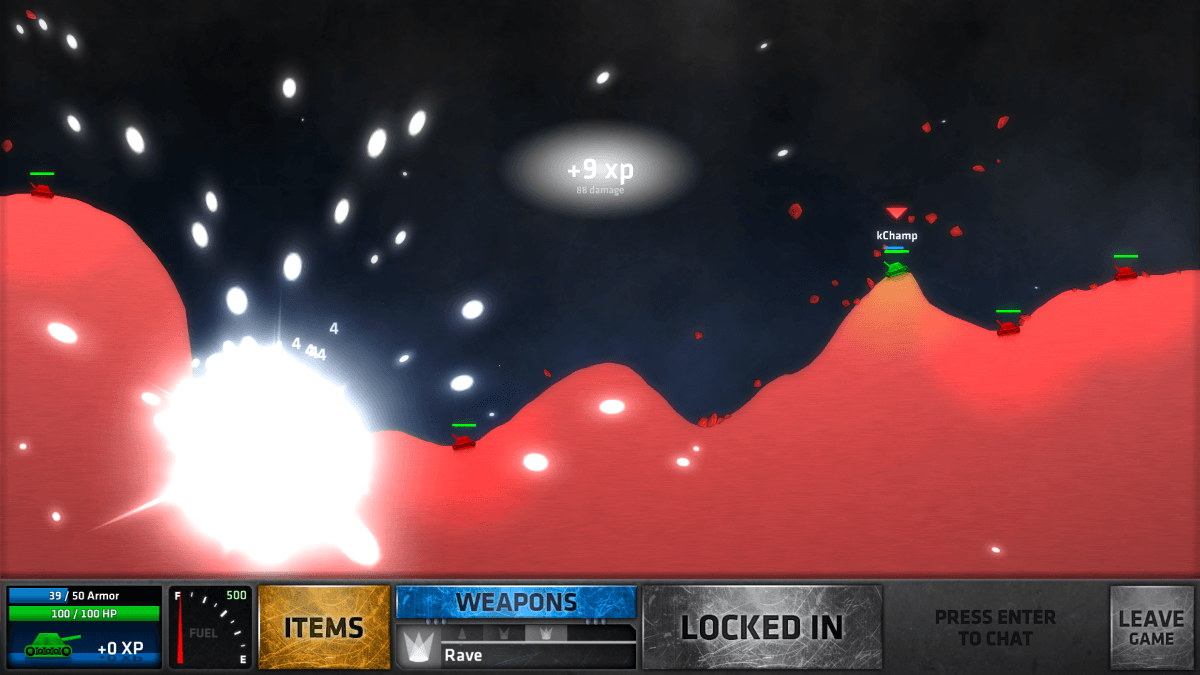 kChamp Games is proud to announce a number of updates to its popular multiplayer artillery game, ShellShock Live — which has now reached Version 0.9.1.7 and is discounted to $6.99 on Steam.

ShellShock Live is a strategic online multiplayer artillery game centered around using tanks to blow your opponents to smithereens. ShellShock Live encourages players to keep playing as they level up and unlock new tanks, music, maps and hundreds of upgradeable weapons. If you're a fan of Scorched Earth, Death Tank, and Worms, you'll be right at home with ShellShock Live.

Key Features
• 8-player online multiplayer battles: Team or free-for-all, with several game modes and options; turn-based shooting or all-shot (i.e., everyone shoots at once).
• 200+ unique upgradable weapons: Use weapons frequently to upgrade them to more powerful weapons (e.g., stream -> creek -> river -> tsunami).
• 100+ ranks: Earn XP to level up to a new rank–unlocking new weapons, maps, tank parts, and skill points; use skill points to upgrade your tank and unlock new skills.
• Fully customizable and upgradable tanks: Earn tank parts by leveling up and completing challenges; customize your tank with parts you've earned.

Three new game modes have been added to ShellShock Live since Version 0.9.1.2:

ASSASSIN tasks each player with eliminating a target. Any damage to other tanks will result in 0 damage. Assassin kills will result in 5 Kill XP + 5 Assassination XP.

JUGGERNAUT has a random player take on the role of the Juggernaut, who in turn gets increased hp and armor. Gameplay is Juggernaut vs. All (up to 7v1).

POINTS rewards a more strategic approach to combat — allowing players to fight each other for points rather than only to the death. The player with the highest score when all players have been destroyed wins the pot!

"It's been quite a trip from the initial launch of the Flash version of ShellShock Live way back in 2011 to now," says Kyle Champ, founder of kChamp Games. "With the Steam version almost at Version 1.0, and thanks to the feedback from the community, I've set my sights on making it one of the most memorable multiplayer experiences on Windows, Mac, and Linux."

New Features (Versions 0.9.1.2 –> 0.9.1.7)
• New game modes (detailed above): Assassin, Juggernaut, and Points
• Pre-game rules now have game-mode specific color
• Adjusted full chassis upgrades to yield 40% Armor instead of 50% (e.g., 40 Armor on 100hp match instead of 50 Armor if fully upgraded)
• Game mode notification and rules at the beginning of each round
• Gear tutorial notification for new users
• New sound effects to roughly 50 weapons
• Game mode icon to game slots
• Improved tank and fire graphics and added tank glow visual effect
• Increased frequency of crates
• Backend system for more modes in the future.
• Game option to choose weapon system.
• XP Multiplier, which also affects weapon XP: Distinct game setups can now earn players different amounts of XP.
• XP Multiplier affected by game mode, player count, shot type, and weapon system.
• Reduced Skill Point reset wait time from 30 days to 7 days.

Visit http://steamcommunity.com/games/shellshocklive/announcements/ for full patch notes on all updates.
Next Article
Warfare Online is an action strategy game featuring simplified real time strategy elements.
by Abubakr
Joymax has announced a successful end to the closed beta for Knight Age.
by MissyS
The time that the cube-fathers foretold is almost upon us: Trove enters Open Beta on Nov. 5, 2014!
by MissyS