Shakes and Fidget 7th Birthday Celebration Underway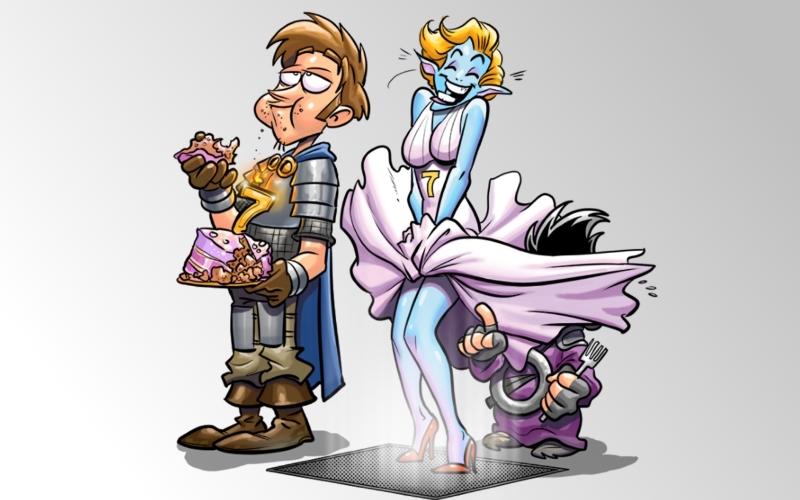 The multiplatform MMO Shakes & Fidget celebrates its 7th birthday. It is the perfect opportunity to look back at an exciting, crazy, and successful year – and of course to celebrate extensively! To kick of the festivities, the now 10th international world will be inaugurated this Friday. RPG fans will then be able to enter many events following this Saturday and Sunday.
What happened so far.
Since the original release in 2009, Shakes & Fidget was continuously evolved graphically and technically, and new content was added constantly. Originally released as an MMO browser game, players can now enjoy their adventures on PC, iOS, Android, and on Steam. In the process, developer Playa Games has always managed to maintain an ironic look at fantasy and RPG clichés.
Since Shakes & Fidget's last birthday, players have been able to enjoy a variety of new updates and features: a complete overhaul added a fresh coat of paint as well as a completely reprogrammed client. International Worlds allow players from around the globe to gauge their strength with others, and the Fortress Update added a comprehensive strategy component. With the addition of Easteros, players can now explore 14 dungeons and have cuddly Pets standing ready at their sides. In addition, heroes are able to hurl themselves in adventures via Steam.
Let's get this party started!
Since the introduction of International Worlds, players from all over the world have created guilds, fought together, and competed in combat. International Worlds are so popular that the already 10th International World will be opened for Shakes and Fidget's 7th birthday. The inauguration is going to take place this Friday at 4PM (CEST) at http://w10.sfgame.net/.
The party will continue on Saturday and Sunday: players can expect more gold, more experience, more epic items (level 50+), as well as a "Forest Rarities Event". Furthermore, the Mushroom Dealer will add an extra 20% to every order.
Finally, all advanced pet lovers will be able to embark upon Skull Island in search of Cannoturtle, which can only be found this weekend and will not appear again until next year!
More information on the events are available in the forum at http://forum.sfgame.us and on the official Facebook page at https://www.facebook.com/pages/Shakes-Fidget-The-Game/107431265996255.
Next Article
Jagex, makers of the multi-award winning fantasy MMORPG, RuneScape, is delighted to report on the continued success of RuneScape Bonds, one ye...
by Mikedot
Nexon Europe is pleased to announce a generous number of new updates to the in-game economy of Combat Arms, the hugely popular online multipla...
by Mikedot