Puzzle & Dragons Celebrates Shaman King's 20th Anniversary with New Collab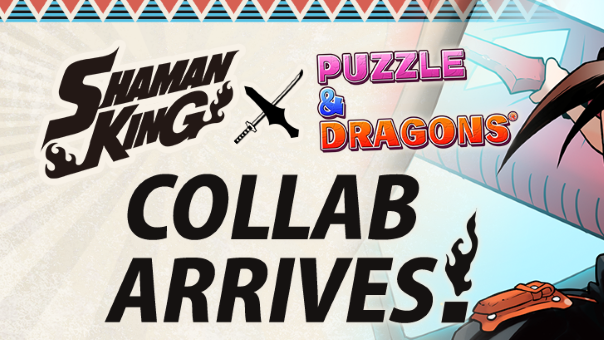 Shaman King is celebrating its 20th anniversary and GungHo Online Entertainment is helping by bringing a Puzzle & Dragons collaboration to life. From May 27th until June 9th, 2019, players can unlock some of their favorite characters from the classic anime/manga and battle some of the greatest villains from the series. The Shaman King Collab allows players to team up with iconic protagonists Yoh Asakura and Anna Kyoyama in an event-exclusive dungeon. They'll also gain access to a variety of new Assist Evolutions, including Spirit Ally, Amidamaru and Ultra Senji Ryakketsu. Players will get a free pull from the Shaman King Memorial Egg Machine, simply by logging in. If players get Opacho, they will also receive the exclusive Shaman King Orbs Skin.
Shaman King tells the story of the young, hopeful challenger, Yoh Asakura, as he attempts to find victory at the Shaman Fight and become the titular Shaman King. Along the way, he faces Hao Asakura, a powerful foe looking to win the Shaman Fight Tournament by any means necessary to become the Shaman King. The 6 Magic Stones! Shaman King Egg Machine will have players spending Monster POints to purchase the exclusive MP Shop Characters Tao Jun and Tamao Tamamura, and exchange exclusive collab items in the Monster Exchange for Matamune and Silva.
Three new bundles are also available for purchase, including 20 Magic Stones + ★6 Shaman King Egg Machine (★6 guaranteed), 10 Magic Stones + Shaman King Opacho Egg Machine (Opacho guaranteed), and a 1 Magic Stone + Shaman King Egg Machine. Full details are below.
6 Magic Stones! Shaman King Egg Machine:
★6
Yoh Asakura

Anna Kyoyama

Tao Ren

Iron Maiden, Jeanne

Hao
★5
Ryunosuke Umemiya

Faust VIII

Horohoro

Joco

Lyserg Diethel

Marco

Opacho
Magic Stone and Egg Machine Bundles:
1 Magic Stone + Shaman King Egg Machine

20 Magic Stones + ★6 Shaman King Egg Machine (★6 guaranteed)

10 Magic Stones + Shaman King Opacho Egg Machine (Opacho guaranteed)
Dungeons:
Shaman King Quest

Multiplayer! Shaman King! Collab

Skill Leveling Dungeon Shaman King
Assist Evolutions:
Spirit Ally, Amidamaru

Ultra Senji Ryakketsu

Spirit Ally, Bason

Spirit Ally, Shamash

Spirit Ally, Spirit of Fire

Spirit Ally, Tokagero

Spirit Ally, Eliza Faust

Spirit Ally, Kororo

Spirit Ally, Mic

Spirit Ally, Morphea

Spirit Ally, Archangel Michael

Over Soul MAMA, Opacho

Spirit Ally, Imari & Shigaraki
MP Shop Exclusive Character:
Monster Exchange Exclusive Character:
AlternativaPlatform has published its 254th update for 'Tanki Online'. After thorough analysis, extensive testing and community feedback, ...
by Mikedot
Beladcom and Entropia Universe announce Planet Toulan, an MMORPG with an Arabian theme.
by MissyS
GameSpree, publisher of free-to-play browser games has just announced the release of Update 1.4 "The Reckoning" to Kings and Legends, the ...
by Mikedot