Project Genesis Launches on Steam Early Access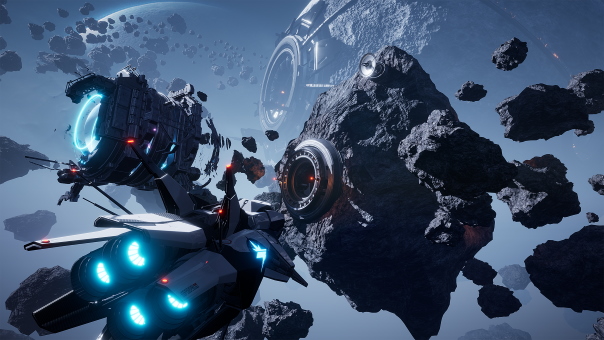 Press Release
Project Genesis, an online sci-fi team-based multiplayer game, will become available for Early Access on Steam on Friday, May 22nd 2020 for $29.99. To recognize early adopters for their support during the game's development, the Project Genesis team is offering an exclusive Founders Pack only available to Early Access supporters. Once Project Genesis releases to general access, the Founder's pack will no longer be available. The pack contains a Founders insignia badge that can be displayed on ships and inside assault pods, as well as unlocking special ship and avatar customization palettes upon purchase. The Founders pack will also contain a special skin, in-game credits, and a remastered version of the Project Genesis original soundtrack when the game officially releases in late 2020.
Offering a novel twist to fast paced sci-fi combat games, Project Genesis encourages players to choose between frenetic third person space battles and first person combat in the same match. Third person space combat uses a "free look" system that allows players to aim and shoot in a different direction than they are traveling, which is distinct from other space combat games that use a more airplane-like control scheme. According to the team, it is a flight model that is designed for FPS players to quickly pick up and play.
From ships and battle craft, players launch one-man assault pods to perform the risky and aggressive "breach and board" tactic. This maneuver seamlessly transitions the player from third person to first person combat modes by tearing through the hulls of giant capital ships or piercing the defenses of industrial space outposts.
"While games like Star Citizen and Dreadnought do an incredible job of creating the epic atmosphere in the vastness of space with incredible ship design, and sci-fi FPS games such as Halo and Destiny are kind of like operatic first person shooters, we thought it would be fun to fuse the two genre types into one game, but focus specifically on tactical combat and team-based competition." said James Mayo, Navigator and President of 8 Circuit Studios. "As an indie studio, we look up to the inspirational scale and scope AAA teams can achieve. Project Genesis gameplay is more compact, and lets players team up and jump into tactical aerospace combat and FPS infiltration assaults quickly, while all in the same match."
The Project Genesis team operates under a rapid development model to ensure builds of major features and fixes are delivered to the community about every other month, though they have sometimes provided updates once a week. The team feels this pace keeps the game fresh with frequent improvements and also allows for iterating on community feedback in short timeframes.
In April, 8 Circuit Studios postponed their Early Access launch to the May 22nd date to address bugs and add new features. With the community's support the Project Genesis team was able to address the issues quickly and effectively. As a thank you, the studio released a free version of the sound track on popular music distribution platforms like iTunes, Spotify, SoundCloud, and Steam. Mayo continued, "Our community has been with us every step of the way, helping us address bugs, providing play balance feedback, and providing input on what features they'd like to see. We thought it would be fun to give something back, and now everyone who would like to can benefit."
In celebration of the Power of the Primal Matrix update this week, WildStar is giving away free level 50s to anyone who logs in.
by MissyS
Rock Hippo Productions has announced MicroVolts' newest update - Naughty & Nice.
by MissyS
Lucent Heart relaunches under new publisher, Subagames.
by MissyS