A New Dragon Arrives in League of Angels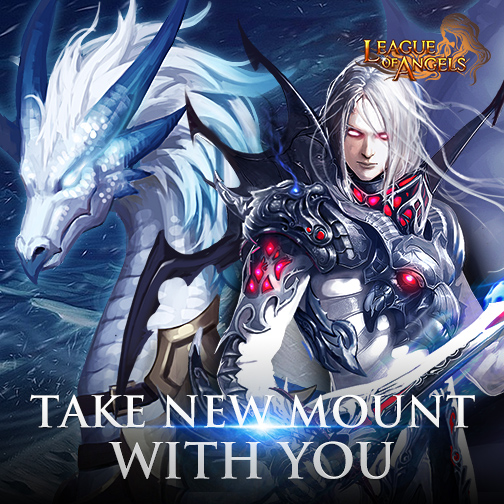 League of Angels is proud to announce the release of a powerful new Dragon!
The mystical White Dragon has come to the land of Angels. Voted by players, this icy cold Dragon is already a fan favorite, but sure to captivate even more players with its sleek design. White Dragon's appearance is a stark contrast to Hellfire Dragon's crimson wings and the sage tones of Azure Dragon.
White Dragon is no ordinary mount. Even amongst dragons, its name is revered. White Dragon's glamour provides double the amount of bonus stats compared to regular mounts, making it a mount truly worthy of a champion.
Glamor Skill: Increase party members' ATK, DEF by 8% and increase party members' Crit Damage 4%, lasts 3 rounds.
After activating the mount, skills and stats will be always be unlocked for you; transferring the mount will not alter your skills or stats.
Who is the True Dragon King?
Now that White Dragon has arrived in LoA, a great competition between the dragons has erupted! Each dragon claims to be the true Dragon King that lords over other dragons. But who do YOU think is worthy to be the King of Dragons? Visit our official forum and share your opinions to earn rewards!
Arm Your Ancient Dragons
As powerful as White Dragon might be, even it needs Armaments to reach its full potential. You will need every ounce of power you can muster to defeat the forces of darkness. Head to the Stable Craftwork and arm your Dragons for war!
Tip: You can find the essentials to upgrade your Armaments in Resource Tycoon, Lucky Tree and many in-game events.
We hope players will enjoy our new mount as we continue to expand the LoA universe. Please stay tuned to the League of Angels Facebook fanpage and the official website for the latest news on future content.
Next Article
Today, Perfect World Entertainment Inc. and Cryptic Studios announced the addition of three actors from Star Trek: Voyager who will be joining...
by Mikedot
Online games publisher InnoGames just revealed more detailed information about the first PvP mode in its 3D action game Kartuga.
by MissyS
Destiny Chaser is an idle RPG that is on the way to Android's Google Play Store this December.
by Ragachak