Move or Die Viewers vs Streamers Content Update Now Available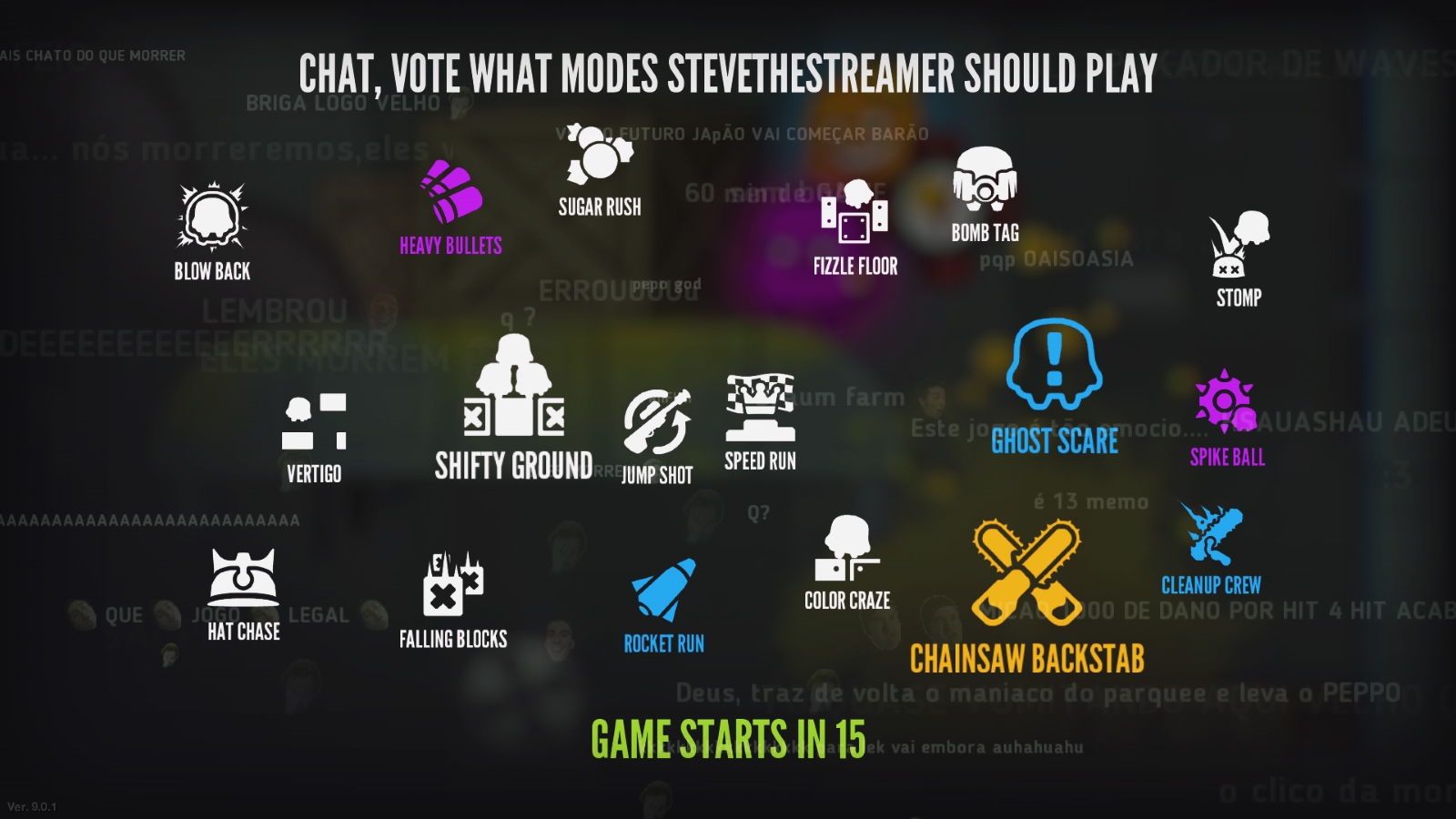 The expression "the more, the merrier" has never been more apropos as indie game developers Those Awesome Guys announced today that the Move or Die "Viewers vs Streamers" free content update is available today. Packed full of goodness including the new Heavy Bullets game mode, Teleport Mutator, and playable characters like renowned indie game hero Shovel Knight, the update also adds the highly anticipated Twitch Mode, enabling – for the first time – Twitch viewers to play with livestreamers in Move or Die.
"Today is an exciting day, as now Twitch viewers can now influence and interact directly with their favorite livestreaming hosts in Move or Die," states Nicolae Berbece, founder and lead developer of Those Awesome Guys. "With the new Viewers vs Streamers update, we included game modes only available in Twitch Mode that allow the Twitch audience to vote on different lasers firing, bombs dropping on specific areas, balancing platforms, deciding who is the most handsome player, and much more. We basically allow the Twitch chat members to decide which livestreamers live and die in Move or Die – and it's going to be glorious!"
"Because our Game Developer Success initiative centers on working with developers who are interested in leveraging Twitch for their products, Move or Die's integration of a dedicated Twitch mode is perfectly aligned with our vision for the industry," said Marcus 'djWHEAT' Graham, Director of Programing, Twitch. "After seeing the positive reception to their Twitch mode at our recent PJSaltan of Stream tournament, it illustrates how keeping the Twitch community in mind should be a core part of game design."
QWERTY Bombs is one of the unique Twitch Mode special events that viewers can control!
Move or Die "Viewers vs Streamers" free content update features:
Twitch Mode –When this mode is enabled, viewers will be able to vote for the game modes played, choose Mutator options, and directly influence gameplay in the following Twitch mode special game events:

Balance – Players spawn on a platform above a floor made out of death tiles, and chat members control the direction the platform is tipped, causing the players to slide off of it and die.
DropKill – Each player spawns on their own platform that is slowly descending into death tiles and viewers vote to raise a specific platform for each player delaying death.
Lasers – The top of the room is armed with huge lasers that are triggered by Twitch chat room votes. When enough votes are tallied, LASERS WILL FIRE!
QWERTY Bombs – A keyboard layout is mapped on the screen and the viewers can type any letter to launch a bomb that explodes in-game.

Heavy Bullets – New game mode where each player gets an empty gun and two bullets are randomly spawned. Collect the bullet in order to fire the gun, but watch out as the bullets have a "heavy" short-range trajectory and missing will allow the bullet to be picked up by an opponent!
Teleporter Mutator – The new Mutator enables a player to teleport a brief distance forward while in mid-air – even through doors and walls!
Added Playable Characters – Seven new characters including Glitch from Twitch, Tankman from NewGrounds, and Shovel Knight!
New Game Announcer – The melodious voice of Arin (EgoRaptor) from Game Grumps joins Move or Die Announcers list! Hi mom!
Next Article
Find out more about Age of Wushu's random encounter system in a special close-up.
by MissyS
Runes of Magic Chapter III: The Elder Kingdoms officially launches. The level cap has been raised and new content has been added to the game.
by Guest
In July the whole game is going to get a big overhaul, increasing the amount of Arcs to ten instead of just four.
by Proxzor