Monster Super League Releases Hermite Dungeon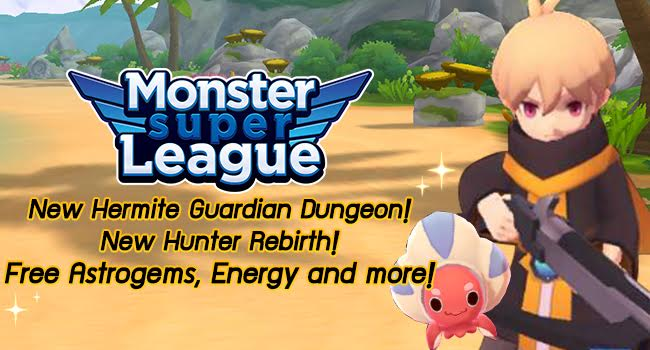 Monster Super League has released a new update, introducing a new rebirth Astromon, new Hermite guardian dungeon, and new events.
The new rebirth Astromon, Hunter, has five element types. The most powerful types are Light, which has a 50% chance to shock enemies for 2 turns, and Dark, which has a 70% chance to shock enemies for one turn. The Hermite Guardian Dungeon offers players the chance to catch this cute water element crab for the whole month.
A new event, "Astromons Here I Come," is also running through November 30, offering rewards that include Astrogems, Light/Dark Eggs, energy, gold, Starstones, and more:
Use 300 Astrochips → 100 Astrogem
Catch 200 Astromons → 100 Astrogem
Catch 10 Rare Astromons → 150 Astrogem
Catch 5 S.Rare Astromons → 150 Astrogem
Catch 1 Legendary Astromon → 1 [High] Light/Dark Egg
Awaken Astromon 50 times → 200 Energy
Evolve Astromon 20 times → 100,000 Gold
Ascend Astromon 10 times → 10 [High] Starstone
Feed Astromon 500 Fruits → 5 [Mid] Star Fruit
Clear All Missions → 1 [Legendary] Secret Egg
Players will also be bombed with gifts of free Astrogems, energy, experience boosts, and gold to celebrate this month's new content.
Next Article
Carbine Studios has recently posted patch log changes for their upcoming Fantasy/Sci-Fi MMORPG WildStar, which brings a slew of new changes an...
by Mikedot
Read the title: CRUSH. YOUR. ENEMIES. You are Spartans, Barbarians, Badasses.
by Ragachak