Mighty Party: iOS Worldwide Release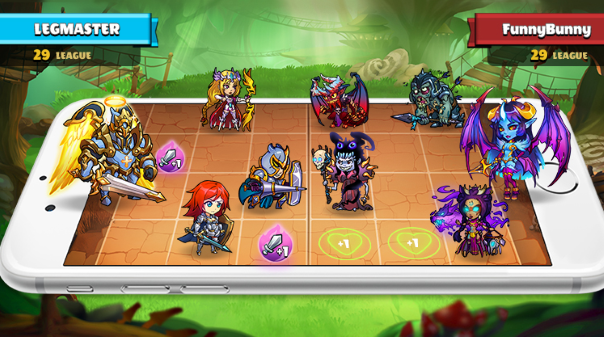 Mighty Party, the turn-based RPG with Collectible Card Elements is now live on Apple iOS devices! Take to the fantastic world of Pangea, where you control Adam, a man who must save this world through great battles and unforgettable adventures. Little does he know that these battles will have a real effect on the world around him. As the player, collect and evolve your Mighty Party to defeat other players using a tile-based battle system. Discover your opponents tactical weaknesses and exploit them, playing heroes that can swing an unfortunate situation back into your favor! There are hundreds of different characters which are unlocked as cards are acquired through gameplay. Each character has their own strengths, weaknesses, and can be powered up via a level-up system. Currently, it is localized in English, Russian, Spanish, German and French, but more languages are on the way in future updates.
In addition to performing standard tasks at the moment we see five different game modes:
Standard PvP fights where a player fights with earlier collected armies against other players, rising up the rating table;
Tournaments with elimination fights where players can get rare epic awards;
Divine Arena where players get random high-level cards. In this mode players hone different tactics before collecting particular cards and evolve them;
Survival where a player is fighting against others until two fails. The Reward in this mode is rare currency which will give you a possibility to receive special items;
Journey – PvE mode that puts players to learn the history at the Pangea's World and open new opportunities for their deck.
Guilds – recently introduced mode where players can chat and choose the team to prepare for Guild Wars in the future. Oh it will be so soon!
Today, French/Swedish developer Lightbulb Crew announced that their long-awaited MOBA-Shooter hybrid, Games of Glory, is now live on Steam.
by DizzyPW
NCSoft announced that Blade & Soul Unchained, the second content update for the MMO, is scheduled to launch on March 2 in NA/EU.
by MissyS
Divine Souls is a fast paced action MMORPG that has great visuals and genuinely fun gameplay.
by Guest